| Suzie Bourage became the first woman to be elected President of the Bureau of International Recycling in Amsterdam.
| In view of starting trialogue negotiations on the Waste Shipment Regulation, EuRIC recalls main messages for achieving coherence between the Waste Shipment Regulation and the future Packaging and Packaging Waste Regulation.
| The BIR Ferrous Division meeting on May 23 heralded the release of its 14th edition of "World Steel Recycling in Figures".
| The report "Mapping local plastic recycling supply chains" by The Circulate Initiative analyses plastic recycling in various Asian countries and makes suggestions for improving their supply chains.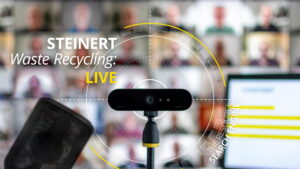 | Steinert will start a three-part online seminar series on different waste sorting technologies scheduled for mid-June.
| Early 2023 had brought an improvement in market conditions for Europe's stainless steel sector following the low demand suffered in 2022, reported BIR Stainless Steel & Special Alloys Committee Chairman Joost van Kleef of Oryx Stainless in his opening comments to the body's latest meeting in Amsterdam on May 22.
| The European Topic Centre on Circular Economy and Resource Use (ETC CE) has investigated the quantity of used textiles exported from the EU.