| The amount of plastic waste produced globally is on track to almost triple by 2060, with around half ending up in landfill and less than a fifth recycled, according to a new OECD report.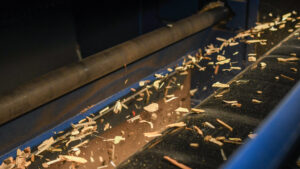 | Founded in 1882, the wood processing company Fantoni Spa has been focusing on sustainability and recycled materials in its production for over 20 years.
| Nextloopp has successfully undertaken the first full-scale packaging production trials using its unique PPristine food-grade resins.
| RREUSE welcomes the approval of the action plans developed by the partners of the 2LIFES project, which aims at promoting re-use through public policies.
| This year, the main focus of International E-Waste Day (#ewasteday) taking place on 14 October, will be those small electrical devices that we no longer use but keep in drawers and cupboards or often toss in the general waste bin.
| Winners of the Plastics Recycling Awards Europe 2022 were announced today at the Plastics Recycling Show Europe in Amsterdam.
| Powerfil, a business unit of recycling machine manufacturer Erema, is presenting the new Erema 2/406 laserfilter at the Plastics Recycling Show Europe in Amsterdam.