| Researchers are investigating a new material that could be used to trap certain gases such as Xenon and Krypton released during nuclear reprocessing. Conventional methods of removing these radioactive gasses operate at extremely low, high energy temperatures.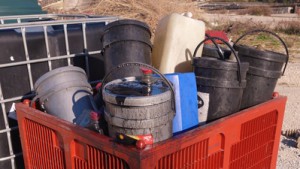 | In 2014, 84% of the 25 billion pounds of toxic chemical waste managed at the nation's industrial facilities was not released into the environment due to the use of preferred waste management practices like recycling, energy recovery and treatment, according to the U.S. Environmental Protection Agency's (EPA) annual Toxics Release Inventory (TRI) report.
| The U.S. Environmental Protection Agency (EPA) is proposing enhancements to the oversight of hazardous waste shipments to help ensure safe management of imported and exported hazardous wastes.
| The U.S. Environmental Protection Agency (EPA) is proposing two new hazardous waste rules to strengthen environmental protection while reducing regulatory burden on businesses. One of the proposed rules will protect waterways, including drinking and surface water, by preventing the flushing of hazardous waste pharmaceuticals and simplify the requirements for healthcare workers. The other rule will provide greater flexibility to industry while requiring new safeguards to protect the public from mismanagement of hazardous waste.