| The Bühler Group has announced the Sortex E PolyVision that can identify same-colour polymer contaminants by analysing their chemical signatures.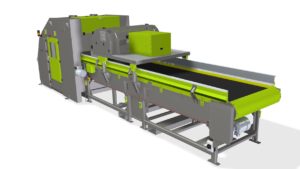 | The Varistort system presented by Sesotec is especially suitable for the sorting of solid waste materials such as metal waste, plastics, and electronic waste, but can also be used for the sorting of residual waste.
| Aeiforos SA, for its End-of-Life vehicle (ELV) recycling process, is one of the first companies in Europe being able to prove compliance with the recycling rates according to the End-of-Life vehicles ordinance.In order to further improve the value added from shredder residue, the Greek recycling company uses a Sesotec Varisort M for the recovery of metals from the shredder light fraction (SLF).
| CEO Marcus Heinrich will leave the company with effect from 30th April 2016. According to the company, "the future visions for the company of the Managing Director Marcus Heinrich, and those of the shareholders, went in different directions."