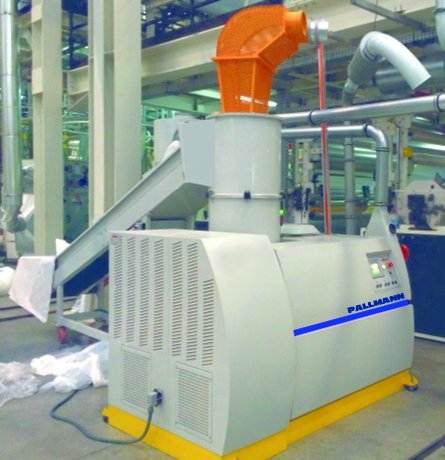 Depending on the form of the feed material, whether edge trimmings, in loose or in bale form, it is fed into the extruder via a conveyor belt, a grid separator or feed rollers. The material then falls into a pre-shredding system where it is cut into film flakes. These flakes are introduced into the extruder screw through the rotor of the shredder. The screw plastifies and homogenizes the material and feeds it into a hot-die pelletizer. Before pelletizing, the material passes a filter system which holds back any type of impurities such as paper or any other solid parts. A degassing unit is available as an option.
After the hot-die pelletizing process to a pellet size of approximately 4 mm and the downstream air cooling, the material can be directly reintroduced into the production cycle.
The Pallmann Recycling Extruder ECO 70 is compact and space-saving. What makes it unique is its robust design and maintenance-friendly operation. The high capacity extruder is available as a complete system with suction device and allows for throughput rates of up to 80 kg/h when processing HDPE- and LDPE film. It is therefore optimally tailored to the requirements of smaller operations.