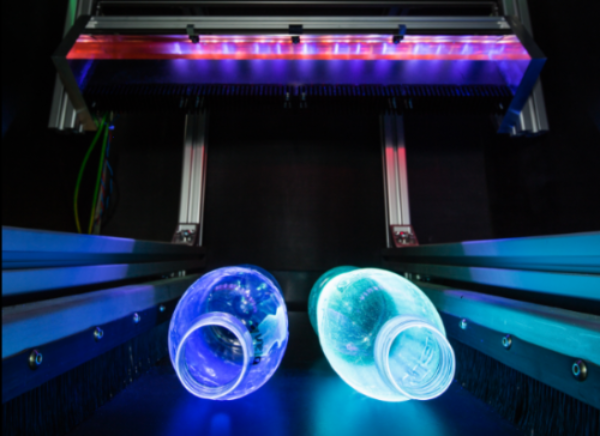 More than 80 experts from the PET value chain, brand owners and researchers gained an insight into this European project that has developed a new technology enabling the identification and sorting of polymers, focusing on PET as a start, in the high-value plastics waste stream.
"We believe that sensor-based sorting technologies hold a key to enabling circular economy for plastics, providing high-grade sorting and boosting recycling quality and yield. Aside from the technical progress made during the Polymark project, we have seen how the entire value chain has embraced marker-based sorting as a crucial next step in improving plastics recycling", explained consortium partner An Vossen from EPRO in the introduction video of the Polymark project.
Peter Reinig, Group Leader Photonic Sensing from the Fraunhofer IPMS, presented the work undertaken by former HERI on the development of the chemical marker. Within Polymark a chemical food contact approved marker was identified which is used for coating on a bottle or on a label. After identification and sorting, this coated marker can be subsequently removed by existing recycling plant washing.
The focus of the second technical presentation, also presented by Reinig, was on the development of a spectral identification technology that detects the marker and decodes the information in order to separate the post-consumer plastic packaging. This Polymark detection principle for sorting is based on UV-excitation and VIS-fluorescence. It is capable of sorting food-grade PET bottles at 3 m/s conveyor belt speed with spatial resolution of 10 mm.
Finally, Hans Eder, Head of R&D at Sesotec, explained the development and functionality of the Polymark industrial scale sorting system. Its marker detection setup is built from two basic units: a high energy UV light unit for excitation of the marker and a highly sensitive camera to detect the weak fluorescence signals emitted from the marker. This Polymark sorting machine is able to achieve an output purity of 98% on the major input fraction.