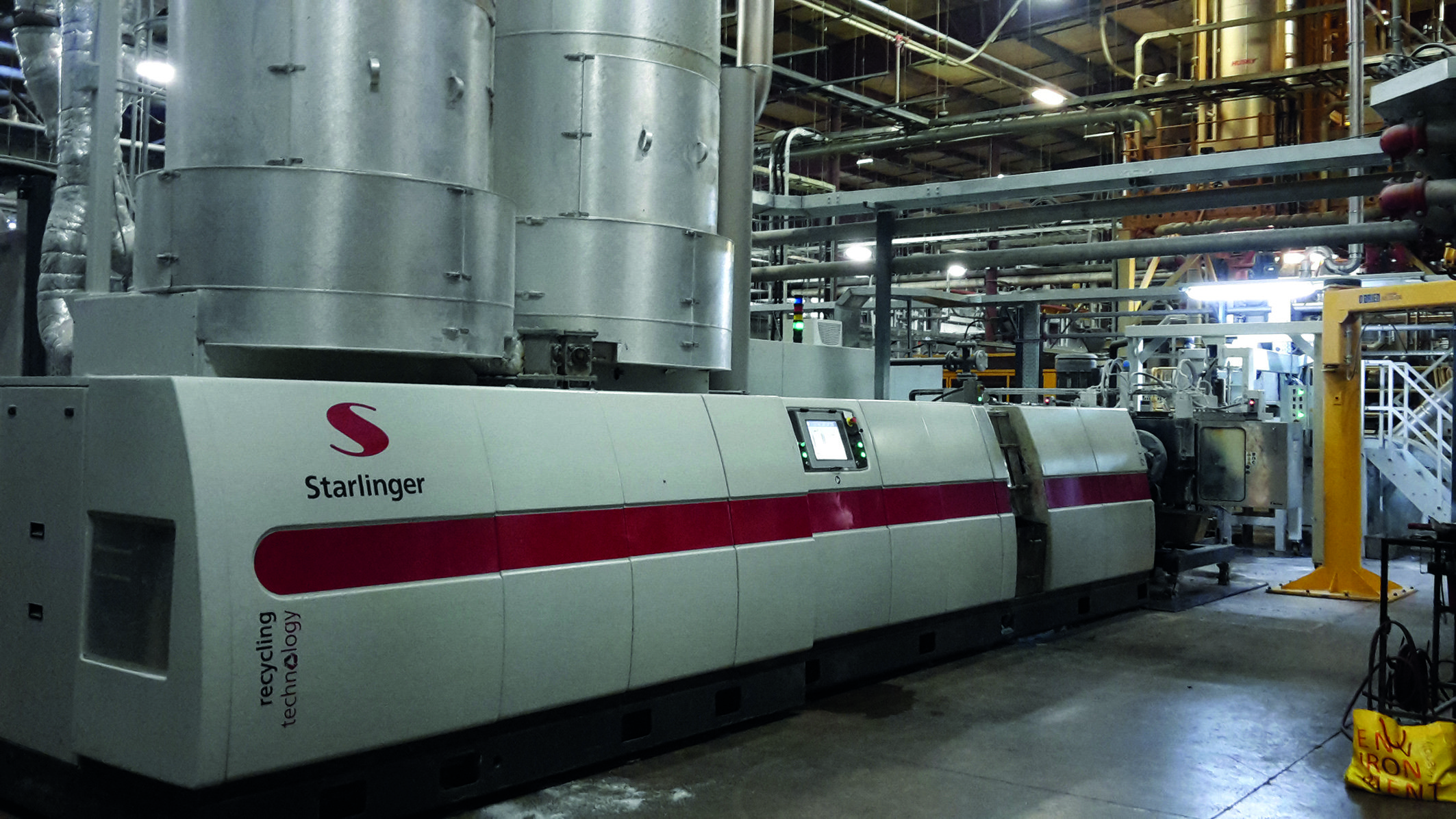 Due to Nordson's BKG® Flex Disc filter cartridge, which has been included for melt filtration, the production output is even higher than the values guaranteed in the acceptance protocol. Also the purge rate has been reduced by 40%, and the melt loss due to backflushing is below the minimum values.
"Our Starlinger system with Flex Disc filters was a positive investment for Ice River Springs", says a spokesperson from the company. "The new filtration system has improved our purification process, reduced waste, and improved performance to a level at, or beyond the commitment made by Starlinger. As recycling streams evolve and become more challenging, this reliable system will continue to provide the quality resin required by Ice River Springs in the coming years."
"With the Nordson Flex Disc filter integrated into our PET recycling system, the melt loss that accumulates during the backflushing process in the course of the filter cleaning is down to 1.4 – 1.7% – a figure that is a lot lower than normal in PET bottle-to-bottle recycling processes", explains Paul Niedl, Head of Sales at Starlinger recycling technology. "The filter works very efficiently; even when processing materials with high contamination that cannot be recycled on other lines, the backflushing melt loss increases to no more than 2%."
The Nordson BKG® HiCon™ K-SWE-250-4K-75/RS-FC screen changer is a backflush melt filter system for continuous operation with two screen-bearing pistons and four screen cavities. With a total of approx. 4000 cm², the filtration area is 2.4 times larger than when using standard screens, filtering the melt with a fineness of 56µ. Another big advantage is the high process stabilization as 75% of the filtration area is available in the filtration process during screen change and backflushing.
The recoSTAR PET 165 HC iV+ recycling line is the second one Ice River Springs installed after purchasing the first PET recycling line from Starlinger recycling technology in 2010, also a recoSTAR PET iV+ system. The new line has a production capacity of 1,900 kg/h and recycles pre-washed PET bottle flakes from curb side collection in Canada. The bottled water producer is based in Feversham, Ontario, and has set up plants in Canada and the US. Ice River Springs is running its own PET bottle-to-bottle recycling operation, Blue Mountain Plastics in Shelburne, which is equipped with washing and recycling lines and produces bottles made of up to 100% recycled PET. In 2011, Ice River
Springs received the Letter of Non-Objection for its bottles produced from rPET from the Bureau of Chemical Safety/Food Directorate, Health Canada. The company runs a vertically integrated operation that also includes preform production and bottle filling plants, which complete the system for closed loop PET bottle recycling. Ice River Springs is the only beverage company in North America to operate such a system.