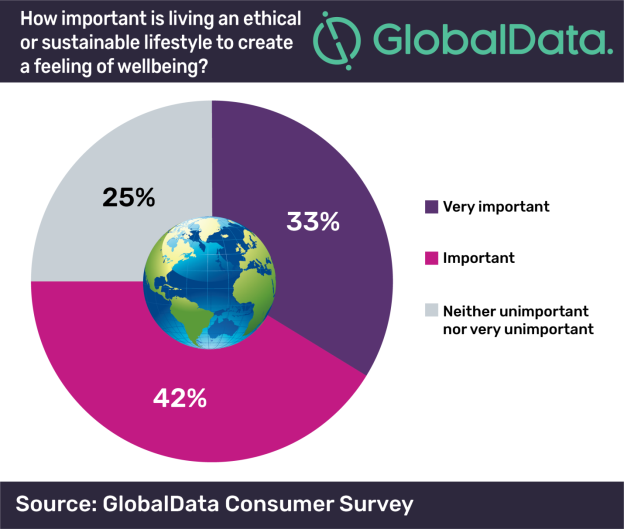 GlobalData's report, 'Innovation Scenarios in Sustainable Packaging Materials', reveals that two-thirds of consumers worldwide think that living an ethical or sustainable lifestyle is important to creating a feeling of wellbeing. This increased focus on environmental impact is creating new opportunities for sustainable packaging material producers.
Mayu Teeven, Associate Analyst of FMCG at GlobalData, says: "Pressure from governments and consumers is forcing companies to better track the environmental impact of their packaging. However, concerns remain over cost, barrier properties and product safety, product functionality, and scalability that must be addressed for sustainable materials to increase their market share."
While analyzing the packaging landscape, the report states that glass packaging is seen as environmentally friendly, but under threat in a world where convenience is crucial. On the other hand, even though the growth of flexible packaging across many categories is driven by cost and convenience, it will come under threat due to the low sustainability credentials many plastics have.
GlobalData has identified Micro Fibrillated Cellulose (MFC), Polyvinyl Alcohol (PVOH), Ethylene Vinyl Alcohol (EVOH) and Polyethylene Furanoate (PEF) as the materials that impact innovation in sustainable packaging markets.
MFC is a 100% renewable material based on cellulose fibers extracted from wood. While the use of MFC is currently niche and severely limited by production capability, GlobalData found that it has the potential to replace existing paper & board in food and drink cartons.
Teeven explains: "Consumers in regions such as Asia-Pacific are used to drinks being served in a carton format, which means there will be fewer obstacles to increasing adoption.
"EVOH, which is mainly made up of carbon, oxygen and hydrogen, is relatively common in East Asian markets such as Japan. It is suited for a wide range of applications, but its environmental benefits can be hard to communicate to consumers as it may not be biodegradable."
According to the report, even as media coverage of sustainable packaging becoming widespread and governments continue to create strong pressure to swap to more sustainable materials, breaking the established habits of consumers will be difficult.
Teeven concludes: "The biggest challenge for producers is to convince consumers that these sustainable packaging materials are worth the cost. Although there are long-term savings to be made by manufacturers moving to more sustainable materials, in the short term prices will likely need to increase to cover the research and development costs of developing new materials and upgrading machinery in factories to work with the new packs."