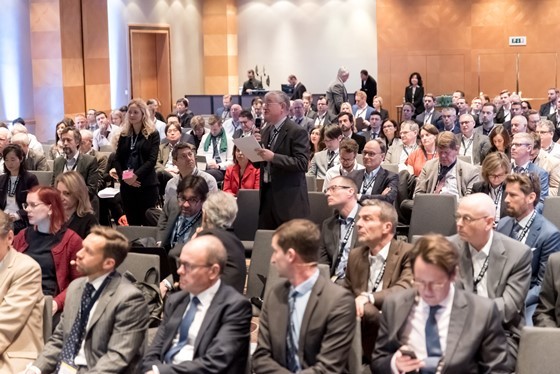 Quite a number of topics were up for discussion this year, as no other industrial sector is currently undergoing as many radical changes as the automotive industry. The pressure to cut carbon emissions is driving the development of lightweight design and electric mobility, but posing major challenges for the recycling industry, particularly when it comes to finding ways to recycle new types of composite materials. However, opportunities are also emerging from this development, as the overarching aim of reducing carbon emissions is also increasingly shining a spotlight on the recycling industry.
In his keynote speech on "Mobility's Circular Economy Potential", Patrick Schaufuss from McKinsey & Company, Inc. emphasised just how great the recycling industry's potential is. His speech also provided the basis for the subsequent panel discussion titled "Opportunities of the Circular Economy". The McKinsey consultant appealed to the automotive industry and other players to give greater consideration to designs that are suitable for the circular economy right from the outset.
Fittingly, Jean-Denis Curt presented the Renault automotive group's circular ecosystem and the closed recycling loops it has introduced. Niklas Kilberg from the Volvo Car Corporation spoke about the measures the Swedish car company has taken to promote sustainability and also presented Volvo's strategy for handling plastics.
Further lectures were held on the key topic of electric mobility and the challenges it poses. For example, Dirk Spiers from the US company Spiers New Technologies presented the "Life Cycle Management of xEV Batteries in Practice". Charles Stuyck also held a talk on the importance of recycling to support the growth of EVs. In the same vein, Johann Prammer presented technology trends for processes and materials in the steel industry between now and 2050.
Another topic of focus at this year's IARC was the latest technological developments in sorting and classifying scrap metal. Lorenzo Bacchetti from the Italian company Danieli Centro Cranes introduced the automatic scrap yard, where scrap is classified with the help of artificial intelligence. The technical lectures were accompanied by country reports from Argentina, Germany and India, which pointed out the challenges that individual countries are facing in the field of automobile recycling. Finally, Artemis Hatzi-Hull from the European Commission presented the current state of the planned revision of the EU End-of-Life Vehicles Directive.
A total of 24 presentations were held on the two days of the conference. The program was accompanied by a trade exhibition that gave congress attendees the opportunity to find out about new products, services and technologies. A total of 21 exhibitors had stands at this year's congress.
Next year the event will take place from March 11 to 13, 2020.