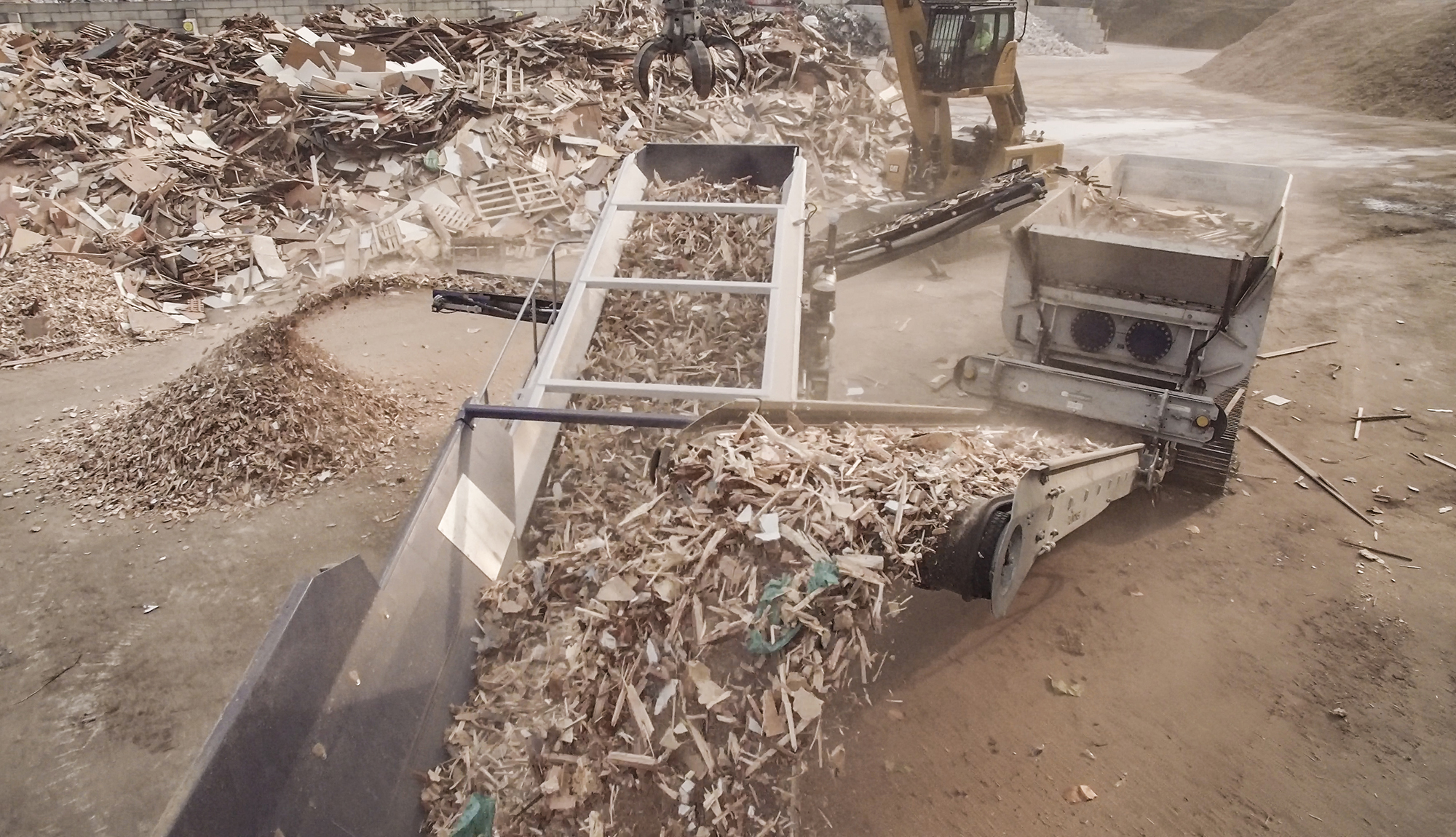 As part of the Bauma, Lindner-Recyclingtech invited to a demonstration of mobile system solutions for the processing of waste wood for thermal recycling. The Austrian shredding specialist demonstrated the shredder series Urraco and Miura, which can be configured according to customer requirements – either as a single-stage solution or in combination with the Linder-Zeta-Star screens, guaranteeing clean grain in accordance with ISO 17225-1.
P100 F05 one step: minimum effort, maximum reward
Powerful and compact – with the newly developed and patented cutting system of the Urraco 75 and Miura series, a mobile Lindner shredder becomes an integrated system solution. Thanks to the optimized geometry of the two shafts and a special secondary crushing beam, waste wood can be processed into a single-stage P100 finished grain. The fines content is less than 4 percent. Further processing steps are unnecessary as the cutting and crushing processes are combined in the system in the low rotor speed range.
The mobile hydraulics, also new and developed in cooperation with Bosch-Rexroth, ensure a constant throughput of up to 25 metric tons per hour with fuel savings of up to 30 percent compared with conventional solutions. According to the company's technical experts, this is made possible by the extreme responsiveness of the completely electronically controlled system, which always guarantees the optimum operating point of the machine through dynamic adaptation to the power requirement. The system is also equipped with an automatic contaminant detection system with an automatic free drive system for easy removal of non-shreddable contaminants. This protects the shafts and drive unit and thus ensures a long service life and high productivity.
P63 F05 two steps: old wood, fine product
The combination of a Urraco 75 or Miura 1500 shredder and the Zeta Star 75 F2 star screen means that clean P63 particles can be produced at a throughput of up to 20 metric tons per hour. The perfect synergy of shredder and screen makes this solution a system to reckon with. Efficient production at its best is ensured by the eradication of further screening thanks to an ideal output with under 5% fines. A system that makes loss of valuable material a thing of the past.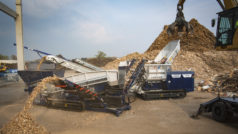 With the variable star speed and the hydraulically adjustable screen deck angle, this system can be adapted to varying input qualities at the touch of a button and yields precise and classifiable output at all times. In addition, the hydraulic adjustability of the return conveyor ensures minimum handling effort. Alternatively, oversized particles from the first shredding stage can be separated as a second final fraction.
P100 F05 two steps: when you need that little extra
The combination of Lindner Urraco 95 DK and Zeta Star 95 F2 DK is designed for particularly high throughputs of over 50 metric tons per hour. The perfect match of shredder and screen ensures constant P100 F05 output without material loss thanks to the fines being screened and separated. The shredder's unbelievable performance and torque of 460,000 newton metres make it easy to process even difficult materials such as railway sleepers with maximum efficiency. Here, too, adapting to changing input qualities is made easy thanks to the self-cleaning screening stars' variable speed, the particularly low-wear high-performance plastics they are made of and the hydraulically adjustable screen deck angle.