The Austropressen team spearheaded by Franz and Philipp Roither will present convincing arguments on topics of "efficient waste management" at the Fachpack 2019 from 24th to 26th of September 2019. The focus will be on information, exchange and practical consulting. The Austropressen stand will be presenting pivotal developments and experiences with special relevance to the packaging sector, such as:
– the newly developed, robust, low height vertical baling press APV easyline. The press is based on a plug-and-play concept. No installation required. State-of-the-art technology allows rapid compaction cycles and high pressure forces, with a drive that clearly saves energy.
– the horizontal baling presses are versatile and will readily compact materials such as cardboard, paper, plastics, foam, textiles or sheet metal packaging.
The advantage once again: minimum energy consumption at maximum power.
Case study – the Otto Group Haldensleben dispatch centre
According to Austropressen Hermes Fulfilment GmbH operates the central depot for the trading companies of the Otto Group in Haldensleben (Saxony-Anhalt, Germany). The dispatch centre has seen constant extensions since 2010 because smooth and fast handling requires constantly increasing capacities. The first Austropressen channel baling press APK-D42 was commissioned in 2017 and two more have since 2018 been working highly successfully in this active company. The Haldensleben location operates with a staff complement of about 3 700, picking and loading up to 300 000 parcels per day on these original company premises.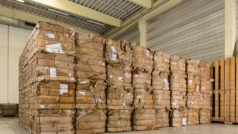 Coping with the huge volumes of packaging materials easily and quickly demands true power of performance to ensure uninterrupted and fully automatic compact baling of the cardboard material.
100% top performance at 30% reduction
in energy consumption and minimal emission of sound
With their peak performance and minimum energy consumption, the modern Austropressen plants achieve according to the company continuous, efficient operation. The three machines are all equipped with a frequency converter driven 30 kW unit. Frequency converter, drive stops and optimised hydraulic equipment together reduced overall energy consumption by around 30%. This high and yet economic power of performance has been achieved at minimum acoustic emission. This is based on a special quiet pump and specific intelligent installations. The result: optimal and safe staff working conditions.