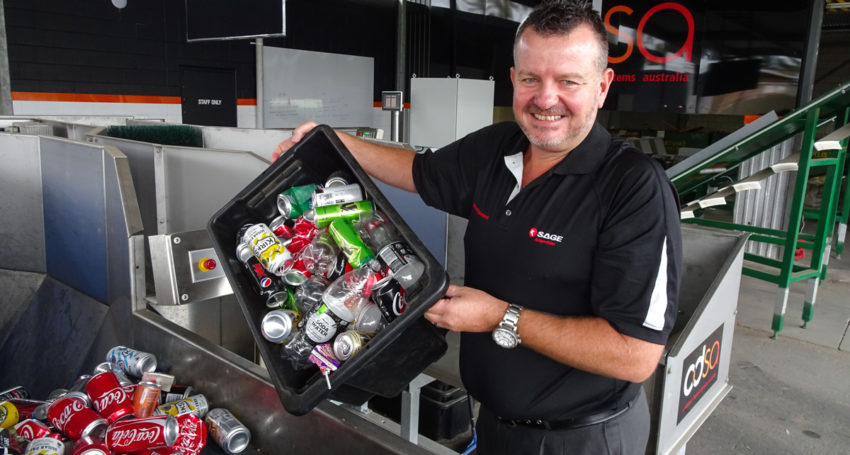 Although the United Nations reports that less than 10 per cent of all the world's plastic is recycled, South Australia diverts more than 80 per cent of its waste from landfill to be composted or reused in the circular economy according to a sustainability report by the South Australian government.
The circular economy, driven by renewable flows of energy, is an adjacent model to the linear economy (create, use, discard) and aims to regenerate a product or material at its end of life.
South Australia's engagement with the circular economy is demonstrated by the its commitment to sustainability – the state harvests eight gigalitres of storm water annually for reuse and sources more than 50 per cent of its energy from renewable sources – as well as subsidies for these industries and policies.
When South Australian Minister for Environment and Water David Speirs announced the impending ban of single use plastics in July, he said the prohibition of these materials cemented the state as a leader in the war on waste.
Speirs said South Australia is committed to working with the community and stakeholders to address the impacts of single-use plastic "to ensure that we continue to maintain this state's reputation as a leader in waste management".
Local companies are leading the way for green innovation, with a range of enterprises breathing new life into materials and engaging with the circular economy.
Here are four innovative companies in South Australia that reuse resources and eliminate unwanted materials.
Northern Adelaide Waste Management Authority
The Northern Adelaide Waste Management Authority (NAWMA) is a garbage, recycling and green waste collection service that has operated in the state's capital of Adelaide since 1999.
The company diverts 2,1000 tonnes of material intended for waste through bin collections or commercial pick-ups annually in the Northern region, and 30,000 tonnes from the broader South Australian community.
Eighty-three per cent of all waste it collects is diverted from landfill and what it can't divert is harvested for methane gas to supplement the solar power that runs the factory.
NAWMA works with local councils to collect waste and sells their harvested recycled materials to other businesses to close the circular economy loop.
NAWMA Education and Projects Coordinator Penelope Morrison said South Australia was the first Australian jurisdiction to have a Circular Economy Strategy and leads the way in waste management.
"With globally competitive recycling rates, a mature resource recovery sector, and engaged stakeholders at all levels, South Australia is looked upon by an international audience on how to responsibly manage resources," said Morrison.
"NAWMA has made a series of bold commitments, including processing 100 per cent of the yellow bin on Australian Shores by 2020, and working with our councils to purchase 50 per cent of recyclables back in the form of sustainable procurement by 2023.
"These two commitments will singlehandedly transition the resource recovery sector to a circular solution."
Advanced Plastic Recycling
Advanced Plastic Recycling (APR) has transformed discarded materials into furniture and timber alternatives for 16 years.
The company converts melted HDPE (high-density polyethylene) pellets into a wood plastic composite material for private infrastructure pieces such as bollards, benches, boardwalks and more.
The material is a wood plastic blend that makes the products stronger, more weatherable and environmentally friendly because it does not leach chemicals into the ground like treated wood and it reuses unwanted plastic.
CEO Ryan Lokan said South Australia is the most advanced state in Australia in regards to the circular economy, and has largest amount of supportive infrastructure.
"We are an antidote to the recycling crisis in the sense that we then take that pellet and create a product that is both environmentally friendly, sustainable, economic and environmental. It's an alternative to cutting down trees to pulling up natural resources," said Lokan.
"Right now those arrows sort of represent the movement of the plastic, whereas what we're trying to do is turn the arrows around and say it should be based on demand.
"The greater the demand for my products by councils, then the greater the demand I have for clean plastic, and the greater demand he has for mix plastics, and the greater demand they have for positive collections."
Container Deposit Systems
Container Deposit Systems (CDS) has been at the forefront of recycling since 1977 with the introduction of its bottles and containers refund scheme.
CDS employs Semi Auto Return Terminals (ART) which allow customers to return deposit cans, plastic bottles and glass in any condition for a 10c-per-container refund.
The ARTs identify and sort containers through an integration of Industrial Internet of Things (IIoT) technology and a vision counting and sorting system developed by Adelaide-based technology and engineering company SAGE Automation.
CDS aims reduce litter and be an active participant in resource recovery.
Although the Environmental Protection Agency South Australia reports beverage containers make up only 2.8 per cent of litter, the state has a return rate of almost 77 per cent and leads the nation.
SAGE Automation designed the new smart container deposit systems and General Manager Paul Johnson said the terminals are above 99 per cent accurate in counting deposit containers.
"The vision system that identifies the containers is bespoke, and we hope for it to become a national solution."
Bio Gro
Hans Van Schaik has experimented with composted materials, to find their value as a resource, for almost half a decade.
Van Shaik engages with the circular economy by developing and manufacturing mulch, soil and substrates from natural materials that would be discarded for his company Bio Gro.
By diverting green waste from landfill the company can convert materials – some of which is animal waste collected from abattoirs – into high quality products for private and commercial horticultural and agricultural industries, like soil conditioners, mulch and liquid stimulants.
The company also provides wood residue to hydroponic grower Holla-Fresh. Holla-Fresh then provides the plant bi-product biochar – valuable soil in the form of charcoal – to Bio Gro to manufacture products.
Production innovation and marketing manager Darren Free said Bio Gro's circular recovery business model processes and diverts around 300,000 tonnes of waste a year from landfill.
"Recovered forestry material, construction timbers, agricultural bi-products, green and food organics is composted and processed into a variety of high-quality products," Free said.
"The pine bark recovered from the timber industry is processed and composted turning it into premium potting mix. This is then used by the nursery industry to grow plants, it's even used to grow new pine trees. The potting mix is also bagged and sold into the retail market for home gardeners.
"This is an important demonstration of a local company's endeavours in creating a business model based on landfill diversion and an organic circular economy to reduce harmful gases being released into the atmosphere."
The Lead South Australia