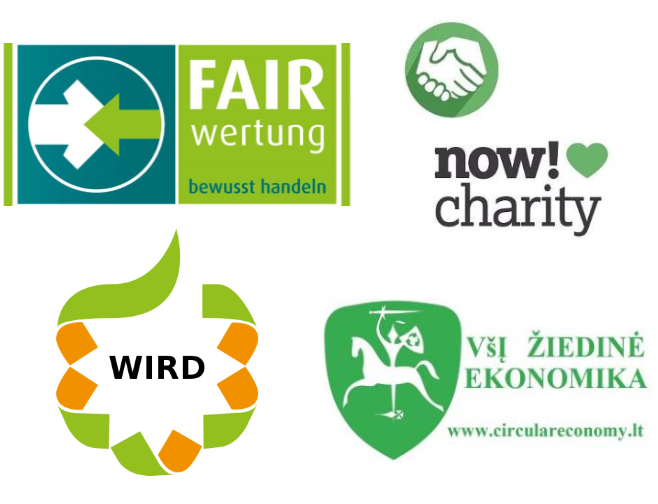 The four new members are FairWertung, WIRD, Now! Charity and Circular Economy Lithuania. Fully aligned with RREUSE's activities and ambitions, all four entities are active in re-use, repair and/or recycling with an aim to improve, and positively contribute to, the circular and social economy.
The German umbrella organisation FairWertung, composed of over 130 non-profit organisations, focuses on the collection of used clothing for the benefit of social projects. Through door-to-door collections, second-hand shops and containers, FairWertung collects over 42.000 tonnes of clothing a year. It also runs a well-established quality label for used textile collection and treatment, making non-profit collections identifiable and ensuring high-quality collecting and sorting. Through its online platforms, FairWertung also makes it easy for consumers to find information about collections of used clothes.
WIRD is the German nationwide umbrella brand for cooperation and guaranteed quality in resource conservation through re-use, repair and upcycling (upgrading of a material) in second-hand stores. It is the label for socially oriented re-use and repair facilities and for cooperating public recycling centres, manufacturers and dealers. It counts 16 members handling approximately 15.000 tonnes a year.
Now! Charity is a community-led charity dedicated to providing essential re-used household items and life-changing community experiences to help deprived and marginalised people across the South East of England escape poverty. Collecting about 580 tonnes a year, the organisation fights for two main causes: to inspire an environmentally responsible living culture to reduce household waste and to eradicate economic inequality, improving accessibility for the most vulnerable in our society.
The NGO Circular Economy Lithuania, located in the Vilnius region, organises volunteer work in re-use centres to treat particular waste streams and repair items such as books, furniture, home appliances, toys and electronic equipment among others. Pictures of all reusable items are published online, making it accessible to a wide-ranging audience. Circular Economy Lithuania's main activities involve advocating for improved sustainability efforts to national and municipal governments, implementing environmental awareness campaigns and giving lectures on sustainable consumption and production.