On centre stage of the new facility are a universal and state-of-the-art washing system from Lindner Washtech with a range of new and improved components, such as a Micromat 2000 shredder, a highly effective pre-wash unit Floater extend and a mechanical dryer of the Loop Dryer series. The washed flakes are regranulated by an Erema Intarema 1714 TVEplus extruder. The plant has been up and running around the clock five days a week for several weeks now.
With 19 waste depots in operation, Dinos is considered one of the largest waste management and recycling companies in Slovenia. The company collects and recycles non-ferrous materials (glass, wood, plastic and paper), metals (all types of old and new industrial scrap, steel, stainless steel and cast iron) and non-ferrous metals (aluminium, copper, nickel and tin). After collecting the waste material, it is sorted and then processed. Dinos has been part of the German Scholz Group since 2012.
"In the past 15 years, in the plastics sector Dinos focussed mainly on collection and pressing or shredding", explains Plant Manager Jure Jambrovic, "But due to the changing situation on the world market where the placement of plastic waste has become increasingly difficult, we've decided to start our own recycling line. This will enable us to offer the market a high quality end product."
The primary materials processed are LDPE and LLDPE clear wrap (mainly packaging films from the industrial sector & supermarkets), mixed post-consumer LDPE films, HDPE drums and HDPE canisters (primarily post-commerical packaging) and PP (crates and packaging).
Product Manager Andrej Gustin states, "Our facility is a multi-purpose line for washing and regranulation of LDPE and HDPE/PP (rigid plastic). We currently recycle post-commercial films, which we process in the four stages shredding, washing, drying and regranulation. The plant can process a capacity of approximately 8-12 metric tons of regranulate per 8-hour shift."
Shredding with Micromat 2000
The Micromat 2000 shredder, which is well-known in the industry for its reliability, can be used universally for shredding hard plastics and plastic films. It is characterised in particular by its consistently high productivity and homogeneous output. And process fluctuations are now a thing of the past thanks to the new 'RAMS Professional' system control and its multitude of setting options to cover a wide range of materials, such as hard plastics and films. The internal pusher ensures smooth feeding of the input material to the cutting unit for continuous shredding. The precisely adjustable cutting gap allows a homogeneous grain with low fines.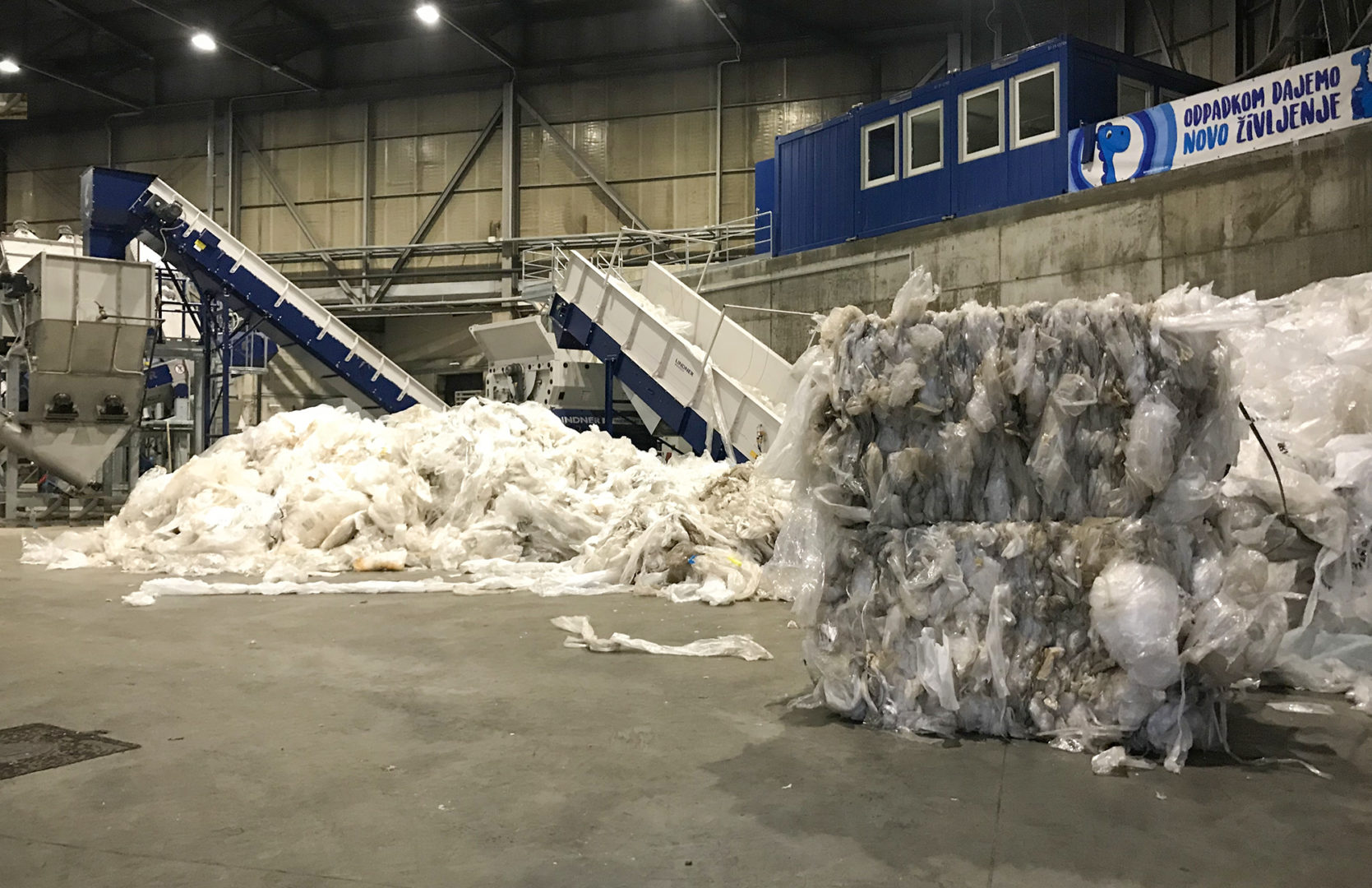 Harald Hoffmann, Managing Director of Lindner Washtech, is convinced: "For years the Micromat 2000 has proven itself as an important core component of our washing systems. We are constantly optimising the machine to ensure a homogeneous output material, which is an important prerequisite for the downstream washing process and contributes to the extreme reliability of the entire system."
Pre-washing with new Floater extend
The Floater extend pre-washing system, a newly developed addition to the Lindner Washtech range, optimises the separation of contaminants from the plastic fractions before washing. In contrast to the float-sink method, materials with a specific weight greater than 1 can also be added to the washing process by means of a slide system. This prevents, for example, valuable films with adhering dirt particles or plastics with mineral fillers (calcium carbonate, talcum) from being discharged along with the foreign matter.
The floater is made entirely of stainless steel. The separation area has a size of 2,200 mm by 1,250 mm. The material is discharged and transported by two discharge screw conveyers, each with a drive power of 4.0 kW.
Mechanical drying in Loop Dryer
Dinos uses the Loop Dryer for mechanical drying of the shredded and washed plastic flakes. In the Loop Dryer any particles adhering to the material, such as paper fibres, are detached using controlled centrifugal force and the materials are dried. This powerful dryer has a total weight of approx. 8.7 metric tons. The rotor diameter is approx. 1,500 mm with a rotor length of approx. 3,000 mm.
The centrifugal force resulting from this considerable rotor radius and the large screen surface ensure a high efficiency of the facility, making it possible to dry hard plastics such as HDPE and PP to less than three percent residual moisture in a single drying step. After mechanical drying, the film fractions are transported by means of a blower to a thermal drying stage before the material is fed into the extruder.
Gentle extrusion and highly efficient filtration
When it comes to extrusion, Dinos relies on the know-how of Erema. On the patented INTAREMA® TVEplus® extruder system in RegrindPro® design with a Laserfilter, everything from LDPE film fractions to HDPE and PP granulate can be processed. This all-rounder machine can process plastic granulate of all densities, thanks to its wide input bulk density range of 30 to 800 g/l. Feeding is automatic, in accordance with customer requirements. The input material is slowly and homogeneously heated in the preconditioning unit, ensuring highly effective drying and degassing of the filtered melt. Dwell time of the granulate is one hour. Hot air flows through the material and any volatile molecules are removed. This results in significant odour reduction in an early stage of processing, which ultimately widens the scope of applications for the regranulate. The extruder is filled continuously with hot material and a universal direct-drive extruder screw makes it possible to switch between different types of regranulate without changing parts.
In the next step, the Erema Laserfilter with a filtration fineness of up to 70 µm removes non-melting dirt particles and impurities such as silicone before degassing. The final homogenisation of the melt between the filtration and degassing increases the degassing performance. The melt is thus optimally prepared for pelletising. "In addition to the high quality of the regranulate, a major advantage is the flexibility of this machine with regard to the polymer, regrind or film to be processed. After all, flexibility and the highest regrind quality prove their worth even in a challenging economic environment," said Clemens Kitzberger, Business Development Manager for the Post Consumer Division of Erema Group GmbH.
Plant Manager Jure Jambrovic is very satisfied with the service of the two companies, "We've been very happy with the excellent collaboration and close communication with the technicians from Lindner Washtech and Erema. In particular, they gave us great support during the engineering phase, especially in coordinating the individual process steps. The plant has run smoothly from day one and delivers a very high output quality that is in great demand."