Policies in place to help reduce the negative environmental impact of cars, for example, includes Ultra Low Emission Zones (ULEZ) (in London and other major cities) whereby vehicles must meet certain emissions standards or be forced to pay a daily charge to enter and drive within the zone. The UK government has also announced its intention to ban petrol/diesel vehicles from 2030.
But what about the initiative of Carbon Offsetting? What is it, why is it important, and how can it help businesses as well as the environment?
What is Carbon Offsetting?
Carbon Offsetting is a way of counteracting those everyday emissions which are created but can't be prevented. It's a process in which people are able to compensate their emissions by funding sustainable projects around the world that help to reduce or absorb equivalent CO2 emissions. These projects offer an equivalent reduction in emissions to those you create, either counteracting or absorbing carbon dioxide.
How does it work?
Carbon Offsetting provides businesses with the opportunity to buy carbon credits in relation to their gas consumption. Each credit can then support an environmental project. It does so by capturing or reducing an equivalent tonne of CO2e which would normally not be captured.
LPG and LNG supplier Flogas is just one company who helps businesses by doing the following: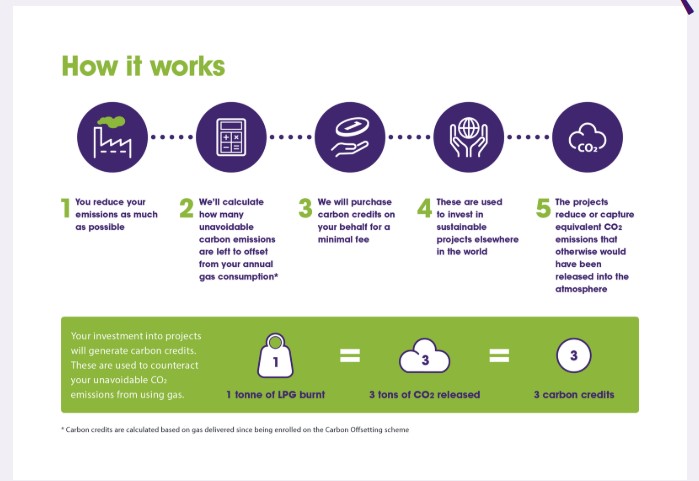 Why is it important?
Of course, it's recommended that you reduce your emissions before offsetting them. But where this is not possible, Carbon Offsetting can be hugely important. It's a way in which we can all limit the damage on our environment —and it's something each and every one of us can do. With people at the heart of Carbon Offsetting, as well as ecosystems, it lets us start looking after our future and preparing for a cleaner, greener world.
Flogas has a Carbon Offsetting Initiative which includes projects in Burkina Faso, Zimbabwe, and China. These projects support communities through improving air quality, by switching charcoal and wood cookstoves to LPG cookstoves.
How can it help businesses?
Carbon Offsetting is a strategy that's already been adopted by many big global brands. This includes EasyJet, Shell, and Gucci — they all now use this method to improve the environmental impact of their businesses.
So, how can it help? You are able to offset 100 percent of your gas carbon emissions and support sustainable causes. However, as well as helping the environment and benefitting communities around the world, carbon offsetting can help you put your business's best foot forward and enable you to meet your sustainability goals. This will also enable you to share marketing materials on your own site and social platforms which can showcase your commitment to reducing carbon emissions.