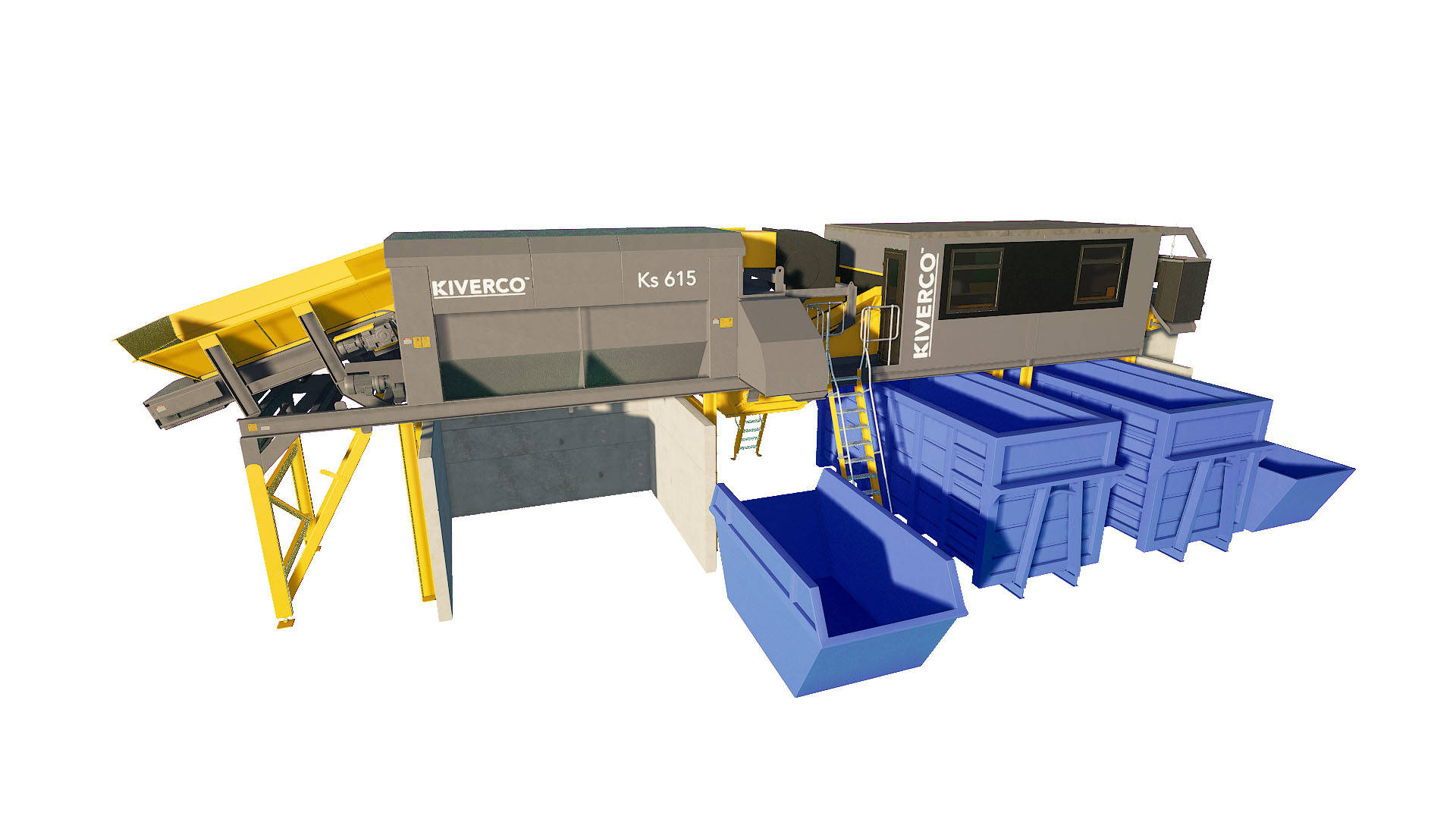 The 'Ks series' is a simple yet highly effective range of waste recovery plants that come in modules and enables up to 14 recovered products from various mixed waste streams. The most interesting feature of the new systems is that you can offload, install and operate all in the same day which is sure to be of huge benefit to may companies worldwide.
The plant comes with a whole range of options, including a trommel screen or waste screen to remove the fines fraction; an air separation unit to remove light waste; a magnet to remove ferrous metals; and a choice of 2, 3, or 4 bay picking station to recover desired recyclables.
The new offering from Kiverco is 'patent-pending' as an entire plant is designed on a single skid frame chassis – a first of its kind globally. The unit is easily loaded onto a trailer, transported to a site, driven into position and then off-loaded using a simple hydraulic jacking leg feature. The plant is so simple to install that it can be delivered, off-loaded, commissioned, and operational within a few hours. The plant has a 'plug and play' power connection and may be powered by mains electricity or generator power depending on the customer's preference.
Gareth Hawthrone, Senior Technical Engineer at Kiverco, explains the new concept: "The Ks series is a pioneering yet simple concept that has never been packaged like this before. This highly robust 'static plant' allows waste companies to immediately remove valuable commodities from the waste stream, which can be reused and/or recycled cost-effectively, diverting waste from landfill. Like all Kiverco plants, it has been designed, engineered, and built using the most durable materials to ensure it withstands the test of time, whilst offering customers a simple user-friendly solution for waste processing and recovery."
The Ks range offers many benefits for customers over and above the obvious simplicity, easy and rapid set-up time, and extensive product recovery options. JP Devlin, Area Sales Manager for the UK explains what other advantages the plant offers:
"There are the obvious benefits of having a plant installed quickly and being operational within a few hours. This type of plant will appeal to finance companies as it is easy to decommission, move/sell, and it will recover a healthy return on investment due to the economical price point set for entry-level users. There is also strong interest from hire companies who see this as the first 'static type plant' that they can hire and move around – it suits the rental market. Although the range has only just been introduced, we have already taken several orders and have lots interest from other potential customers."