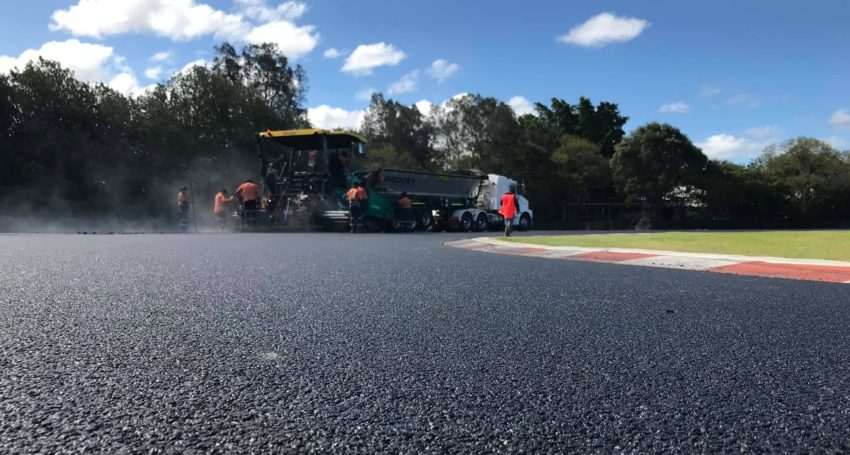 The asphalt, known as Carbonmastic, developed by Gold Coast companies Austek Asphalt Production and Pearl Global, could potentially lead to millions of tyres each year being redirected from landfill.
The trial began this week on roads at Ormeau on the northern Gold Coast and Austek General manager David Simmons said the trial was the first time a council had committed to using the environmentally innovative asphalt.
"We essentially fully recycle used tyres and repurpose the products to replace diesel fuel at our plant and concurrently use the recovered carbon black to make a superior asphalt product," Simmons said.
"This product is great for council roads because it restricts reflective cracking, you can lay it thinner because it's a stronger compound, and it's a smoother, quieter surface," he said.
"Obviously there's environmental benefits. There's also cost savings, there's benefits to council roads, and it's got real safety advantages.
"This is absolutely ground-breaking stuff. It's very clever. We are getting really good buy-in and a lot of councils are now looking at this really seriously."
Gold Coast Mayor Tom Tate said the locally-produced waste-tyre busting technology could be a boon to the city.
"Our city is broadening its economy which is attracting new innovation and new industry," Mayor Tate said.
"To see this type of technology is fantastic as it brings with it the idea of renewing waste products.
"Recycling is at the forefront of community planning across Australia so I look forward to seeing how this new asphalt application rolls out – literally.''
Around the world, an estimated 1.5 billion tyres are dumped each year, causing major environmental challenges including the non-biodegradable tyres leaching toxins into soil and water.
A staggering 56 million used tyres – equating to about 450,000 tonnes – are estimated to be sitting in disposal sites throughout Australia.
About 14 percent of the waste tyres are currently recycled into other forms, 56 percent is exported and 30 percent dumped illegally, stockpiled and ends up choking landfills mostly owned and operated by local councils.
Simmons said the process fully recycled 100 percent of the tyre, creating a full circular lifecycle sustainable economy.
Tyres, from cars to massive mining vehicles, were broken down to produce carbon char, reusable steel and fuel oil.
Tyre-derived fuel is a global growth market with the fuel increasingly being adapted as an alternative to diesel.
The carbon char also developed in the process is core to the Carbonmastic asphalt product.
It is a major evolution on other recycled tyre products, such as crumbed rubber, because it utilises 10 used tyres compared to just 0.7 of a high-grade truck tyre for every tonne produced and is activated carbon that improves bitumen strength and colour.
"There's nothing like it in the industry at all. About 0.7 of a truck tyre is the closest thing that crumbed rubber delivers," Simmons said.
"Nothing gets wasted. It's incredible really."
Simmons said more than 1.6 million tyres would be recycled into Austek's production processes annually, ensuring the tyres would be diverted from toxic stockpiles or landfills.
The Austek Production plant at Yatala would replace 1.3 million to 1.6 million litres of diesel with tyre-derived fuel oil.
"It reduces our carbon footprint massively," Simmons said.
"We've got big numbers on this. Our plant produces roughly 160,000 tonnes a year. We're going to save about 7,000 tonnes of CO2 going into the atmosphere."
Simmons said other Queensland councils including Moreton Bay, Logan, Dalby and Redlands had expressed interest in the product that was being trialled on the Gold Coast.
The council applications came after 180 tonnes of Carbonmastic was laid on Norwell Motorplex's kilometre V8 Supercar racetrack between Brisbane and the Gold Coast to test and showcase the product's improved skid resistance, reduced road noise, and other safety features under motor racing conditions.