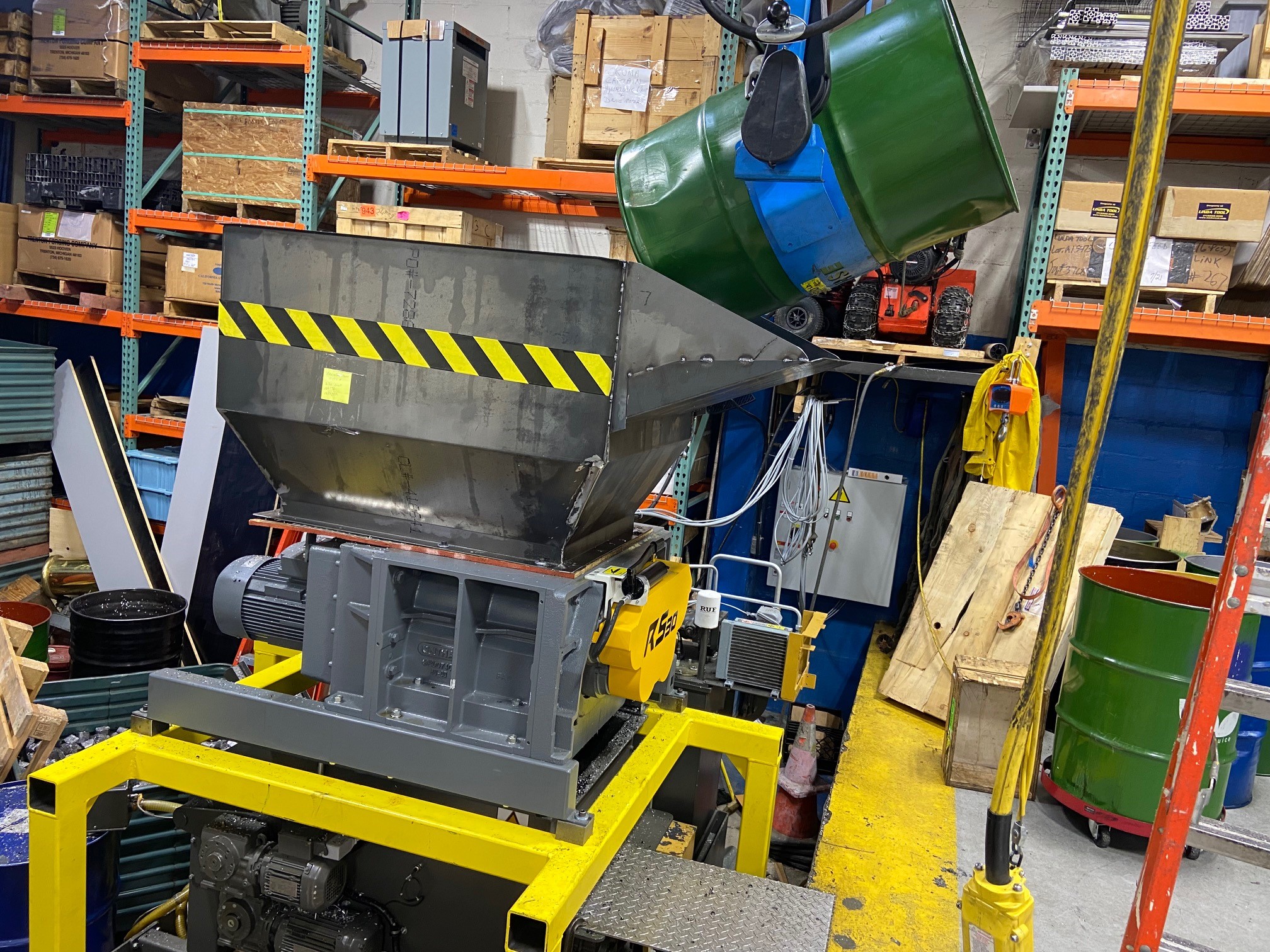 The firm has been producing components and assemblies for industries including aerospace, and oil and gas, since it was founded in 1952. But nestled away in the bustling Brooklyn streets – where real estate is at a premium – the facility has found it harder to store chips and turnings as its production capacity has continued to rise.
Metallic machining chips – primarily aluminum, titanium, and various brass and stainless steel alloys – were previously stored in 55 gallon drums, to be collected for resale and recycling. But with the drums soon stacking up despite weekly pick-ups, this still represented an undesirable use of the site's precious space.
Linda Tool therefore explored both the metal shredding and briquetting technology available in the marketplace, to make smarter use of space while bolstering its environmental performance. They first installed a briquetter, which handled their chips well, but was unable to process their longer, stringier material. Further research therefore brought president Mike DiMarino to Untha America, and the four shaft RS30 shredder – a compact yet robust machine capable of shredding this tough metallic 'waste' into free flowing material that the briquetter could better handle.
"It's difficult to operate a manufacturing facility in Brooklyn – the second most densely populated county in the United States," commented Mike. "We produced briquettes to get our chips off-site as efficiently as possible, but it was labor intensive as we had to hand load the machinery and stay close by to monitor the process and rake material around. This approach was also maintenance-heavy.
"We would easily need a recycling collection once or twice a week, which was a real logistical struggle too, when trying to get the trucks to site."
Having researched the solutions available, Linda Tool quickly decided on an Untha shredder.
Now, by producing a homogenous 1 inch output thanks to the RS30's in-built screen, they can simply feed all of their material into the shredder, allowing the briquetter to do its job unattended. Adding the shredder also increased the density of the briquettes, allowing them to increase their loads to 1.8 tons of briquettes – 50% more than previously.
The machine is currently handling 1 ton of material per week but has capacity to process far more. The recycling contractor's visits have fallen to once every 4-6 weeks, for further cost and environmental efficiencies, meaning the net financial yield from the recycling process has improved by 50%. The HVAC system is also more efficient as the overhead garage door does not have to open for as long, or as many times, due to the infrequency of scrap pickups.
Residual oils and lubricants are more easily recovered too, allowing the team to enhance its environmentally safe footprint – not least because it is easier to recycle and reuse the machine tool coolant.
"What many people perhaps don't realize about smarter 'waste' handling, is that not only can they improve their environmental performance, but shredding makes good business sense too," concluded Mike. "Our site is tidier, we've reduced material collection costs, and overall we're more efficient – which is particularly important because our colleagues can spend time on more value-added tasks, rather than manual labor. This is especially applicable because the Untha RS30 is so easy to maintain."