Plastship, a leading European platform for recyclate procurement, is expanding its offerings to facilitate plastics converters' use of recyclates in high-value applications by refining plastic recyclates with additives from selected partners. In addition to design for recycling and sortation technology, improving recyclate quality and performance is critical for increasing recyclate usage in the future. Performance enhancing additives designed for the circular economy help improve recyclate quality and processability, and preserve recyclability for multiple reuse cycles.
Additive effects at a glance
The Additive Selector on the Plastship portal provides an overview of the effects of various additives, and offers producers and users of recycled plastics indications of potential performance improvements through the use of additives. "The new feature offers our customers a variety of additives to choose from that can improve the material performance for a selected recyclate and predicts the properties of the material-additive combination. " says Andreas Bastian, Managing Director of Plastship.
The Additive Selector includes a comprehensive customer engagement approach. All requests via Plastship are directly handled by the additive partners. To meet specific end-use performance objectives and individual requirements for the end application, it is possible to contact specialists from the additive manufacturers via the Additive Selector.
Creating value for plastics circular economy
One of the main challenges in plastics recyclates is material performance and quality fluctuations, which is inhibiting the use of recycled resins. Material quality in plastics recycling is greatly dependent on the quality of the input material and the type of process used in recycling. For a circular economy, it's pertinent that recycled raw materials can be reused again. Here, additives can play a crucial role in developing recycled raw materials that fit application requirements, enabling usability, increasing the value of recyclates, and ensuring their circularity.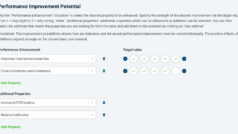 "By recombining business intelligence of two quite complex areas – additive effects and data on recycled plastics – and choosing a digital approach, the Additive Selector and the involved partners provide easy orientation for producers and users of plastics recyclates. The collaboration creates new opportunities for material streams, which might not fit a desired application until now, and enables improved recyclate quality and new recipes. In the future, the data-based approach help make opportunities visible, predict additive effects, and recommend solutions based on best practices and formerly solved challenges in recyclate quality for the benefit of the industry", Bastian states.
Expertise for additives to improve recyclate performance
With a holistic approach to the end of the product lifecycle, Kraton's Cirkular+ product line enables plastics upcycling and circular economy solutions by facilitating compatibilization and performance enhancement of versatile multi-resin post-consumer (PCR) and post-industrial (PIR) plastic waste streams in various applications.
The Surface Treatment global business unit of BASF's Coatings division, operating under the Chemetall brand, offers integrated cleaning agents to optimize the quality, productivity and safety of plastics recycling processes. Carlo Bouwmeester, Global Segment Manager Plastics Recycling at Chemetall, comments as follows: "The development of Plastship's unique additive selector puts the needs of the market into focus. Together, we are working to create new business models and shape sustainable material cycles through innovative solutions."
With its global production sites and long experience in the field of plastics, Baerlocher individually develops tailor-made solutions to support its customers to deliver the quality and sustainability needed by their customers. Andreas Holzner, Head of Business Unit Special Additives, explains: "Working with technology companies, polymer producers, recyclers, converters and brand owners, Baerlocher successfully supports its customers in upcycling of post-consumer and post-industrial wastes. Connecting all these industry players via Plastship as digital platform, we expect to accelerate the development of tailor-made additive solutions enabling real circular product streams. Here the Additive Selector helps visualize opportunities for all players along the value chain."
The Additive Selector is now online.