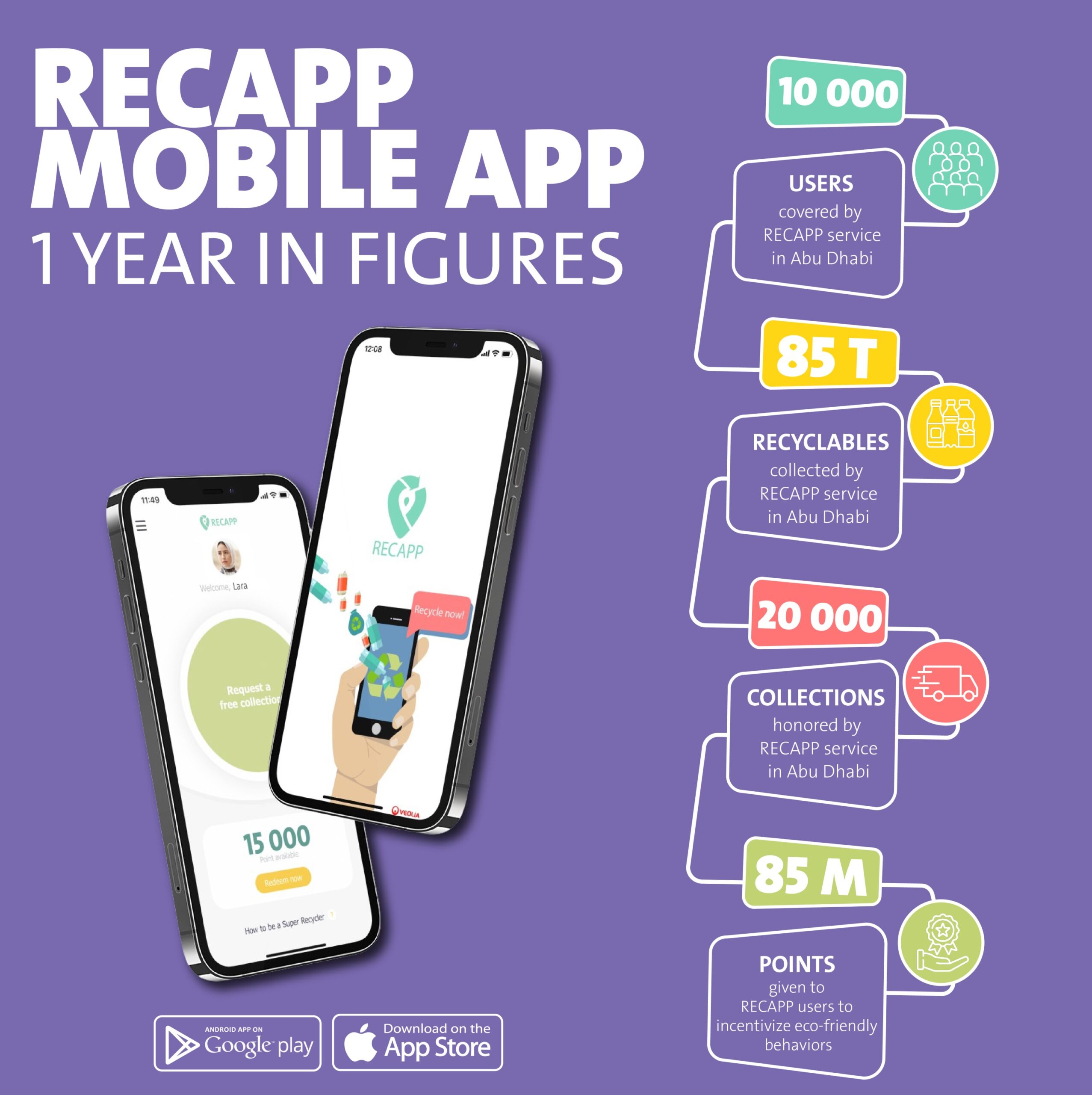 Since its launch in November 2020, RECAPP has built a community of 10,000 registered users and collected 85 metric tons of recyclables, including transparent and opaque plastic bottles and metal cans. On average, 500 kg of recyclables have been collected every day through the RECAPP app, with an average of 130 collections conducted per day.
Commenting on the app's one-year anniversary, Jérôme Viricel, General Manager of RECAPP at Veolia Middle East, said: "We are beyond proud of our achievements with RECAPP, which has empowered thousands of Abu Dhabi residents to adopt a more sustainable lifestyle by offering them an accessible, convenient way to recycle. As a homegrown application, RECAPP was created to support local communities as they strive to partake in the circular economy, and we are looking forward to expanding into Dubai to continue building our community of recyclers."
The anniversary also marks the conclusion of a powerful collaboration pilot involving Agthia, Borouge, Coca-Cola, Nestlé, PepsiCo, and Unilever, all of whom combined forces with RECAPP to capture recyclable post-consumer packaging and ensure it is effectively recycled. The industry partners that supported RECAPP are part of a larger coalition of organizations, the Coalition Circle (Coalition of Innovation in Recycling towards a Closed Loop Economy), which acts under the endorsement of the Ministry of Climate Change and Environment (MOCCAE), and is committed to developing a circular economy.
Alongside Carrefour and Agthia with Al Ain Water, RECAPP is pleased to welcome three new rewards partners to its digital catalog of vouchers. RECAPP users can now redeem their points with Upfill, the UAE's first solid cosmetics brand offering natural, waterless products; and De L'Arta, a sustainable local skincare brand supported by The Catalyst, the Masdar startup accelerator. These strategic partnerships reflect RECAPP's efforts to support local businesses that are working toward a circular economy.
RECAPP user and Abu Dhabi resident Thomas Bennet commented on his experience with the app, saying, "I use RECAPP together with my young son to teach him about sustainability and the importance of recycling. We should all do our part as individuals to protect our planet for the generations to come, and RECAPP helps me do my bit for the environment by making the recycling process simple, fast and straightforward."
RECAPP is making a concerted effort to assist in building a local ecosystem that can support a circular economy. To this end, RECAPP has now joined forces with Safetex Group to provide the latter with PET plastic bale recovered from collections, which Safetex will use to produce a type of fiber that can be used in cushions, pillows and beddings. The collaboration illustrates how to close loops through recovering plastic waste and giving it a new and useful purpose.