In a bid to help tackle climate change and reduce plastic polluting our environment, many Brits are looking for ways in which they can do their bit for the planet. Since 2010, UK household recycling rates have increased by 5%, rising to 45%. However, a new report conducted by Barratt Homes reveals there is still a lot to be done, as almost three-quarters (71%) of Brits admit to knowingly disposing of recyclable items into general waste rather than recycling them.
The UK's recycling guilty secrets report combined UK government recycling data and the findings of a 2,000 respondent survey to uncover the nation's recycling habits. YouGov reports more than four-fifths (81%) of Brits have already made changes to their lifestyle to help them live more eco-friendly lives. Yet one easy and cost-effective way in which households across the country can become greener is by simply being more aware of their recycling habits.
The UK's recycling guilty secrets
The findings reveal over three quarters of Brits put items into the recycling bin without checking whether they can be recycled. Furthermore, 72% of the UK admits to putting something we knew could be recycled into the regular waste bin, with almost half of us going as far as to hide recyclable items at the bottom of the regular waste bin. It's not just putting recyclable items in the regular waste bin that Brits are guilty of. More than half of the UK have also put items we knew we couldn't recycle in the recycling bin.
The most common items Brits confuse for being recyclable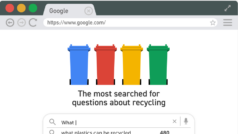 Understanding which items can and cannot be recycled could be a reason for many households struggling to become more recycling friendly. Kitchen roll is the most common household item which Brits confuse for being recyclable (32%), when in fact the paper fibres are too short for the recycling machines, making it better suited as compost for house plants rather than the recycling bin.
Surprisingly, clothes come in second, with more than a fifth of Brits (21%) stating they can be put in the at-home recycling bin. This is not true, and the best way to dispose of old clothes is by either donating to charity, selling them, or dropping them off at a clothing and textile bank which are usually found in supermarkets or local car parks.
The most common items less known to Brits that can be recycled
In contrast to items that Brits are confused can be recycled, there is also everyday household waste which Brits are totally unaware can actually be recycled.
Cartons are revealed as the most common household item that Brits think should be thrown away instead of recycled as two fifths (40%) of Brits state it is unrecyclable. In fact, 90% of local authorities now collect cartons for recycling. Shockingly, next up are glass bottles, with over a third (35%) of Brits stating they can't be recycled, closely followed by tins at 32%.
Top tips for how to improve recycling habits
Gareth Rondel, head of sustainability delivery at Barratt Homes, also reveals top tips for helping Brits to better navigate their recycling habits at home. Recycling doesn't have to be complicated and can be made simpler by implementing an easy-to-follow recycling system. Gareth said: "Start by locating a suitable place to store your recycling in the home, this could be either in a bag, a box, or a bin. Keep the container next to the general waste bin to remind everyone that items should be recycled, and it's just as easy to do this as binning them."
It's important to understand exactly which items can be recycled, and this information is easily found on local council websites and often on the recycling bins they provide. Gareth adds: "Identifying which items can be recycled is one of the most important steps in become a more recycling-friendly household. Local council websites publish information regarding the items recycled in that area, together with familiarizing yourself with the different color bins provided for your household, as these are assigned to different recycling groups."
Recycling is collected on different days, so it's important to check with your local council which day the collections take place. Gareth said: "Your local council website will host a wide range of information on recycling, and in particular which days recycling is collected in your local area. Familiarize yourself with your local collection times, make a note of these and keep it in a place that is visible for the entire household."
To encourage better recycling habits, try to create a positive routine that fits within your lifestyle. Gareth adds: "Fitting recycling into your lifestyle is one of the best ways to remain on track with your recycling habits. Whether it's taking the recycling out to be emptied on the way to the supermarket, or as you're about to embark on the school run. This means you can fit recycling around your work and personal life, and your children can learn whilst you do so." Gareth said: "Sustainability and becoming more eco-friendly has never been more important, with households around the UK striving to contribute towards a greener planet.
By becoming more mindful of what and how we are recycling, a small change in household behaviour can make a huge difference across the nation. Our study highlights the areas of recycling that Brits are unfamiliar with and, from this, we can work to educate ourselves on how we can improve our recycling habits."