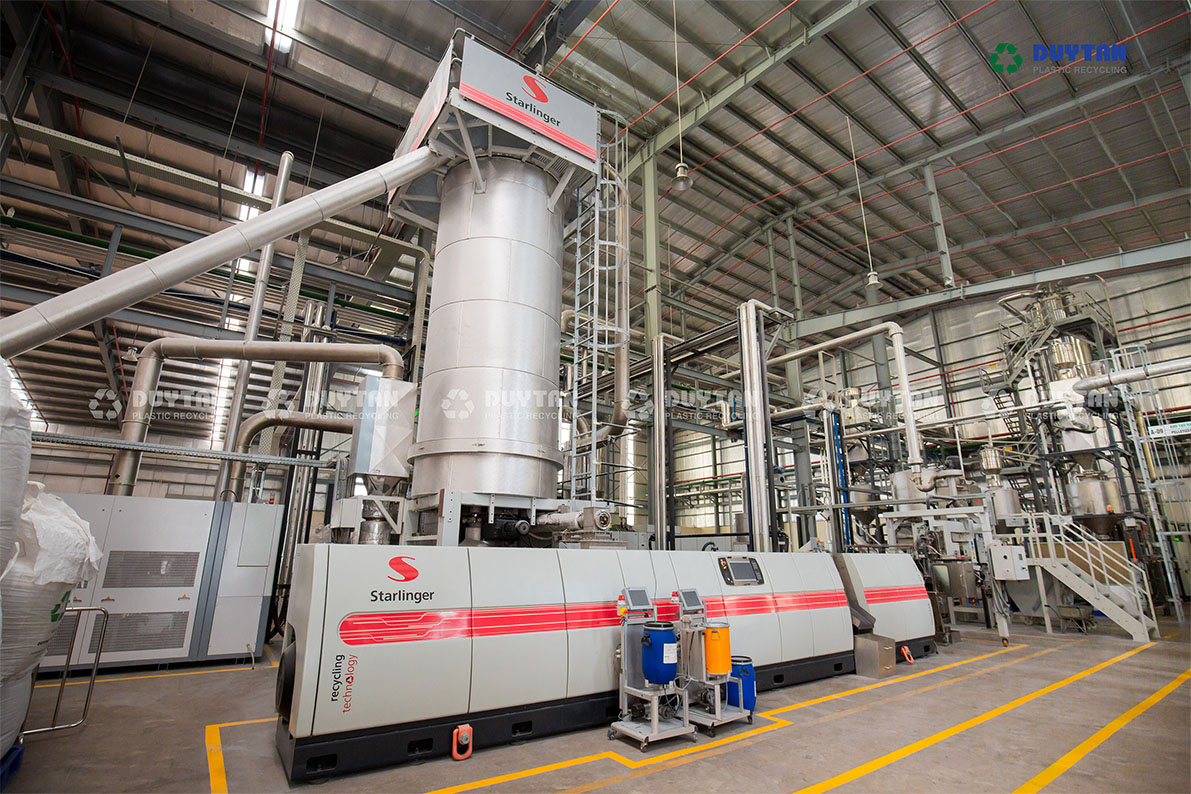 The company is about to install its third Starlinger PET bottle-to-bottle recycling line, which is scheduled to take up production by the end of 2023.
"We want to promote a closed loop for plastic bottles in order to reduce plastic waste and the use of fossil resources in our country", said Lê Anh, Sustainability Director at Duytan Plastic Recycling. "After spending many years researching recycling technology, Duytan Plastic Recycling found that Austria has a lot of experience with the circular economy. Therefore, in order to produce food-grade recycled PET for the production of high-quality PET bottle preforms, Duytan Plastic Recycling decided to choose recycling lines supplied by the leading PET bottle-to-bottle recycling machine manufacturer in Austria, Starlinger."
Located at the Duc Hoa Ha Plastic Industrial Zone in Long An Province, Duytan Plastic Recycling has been the first recycling enterprise in Vietnam to engage in PET bottle-to-bottle recycling. The new high-end PET bottle-to-bottle recycling line from Starlinger, a recoSTAR PET 330 HC iV+, will be delivered and installed during the third quarter of 2023 and is planned to take up production by the end of the year. Like all Starlinger plastics recycling systems, this bottle-to-bottle recycling line is characterised by very energy-efficient operation, also due to the use of an underwater pelletising system. Compared to strand pelletisers, underwater pelletisers consume considerably less energy, especially when used with a downstream SSP process. Furthermore, the investment costs and operational expenses for the recycling company are lower.
With the additional production capacity, Duytan Plastic Recycling will increase its reprocessing capacity to 60,000 tons of plastics per year, which equals about 4 billion post-consumer plastic bottles.
Currently, Duytan Plastic Recycling operates two PET recycling lines from Starlinger with a yearly production capacity of 30,000 tons of food-contact rPET pellets. The Starlinger PET recycling process meets the standards of the US Food and Drug Administration (FDA) and the European Food Safety Authority (EFSA). The produced rPET can be used at shares of up to 100% for high-quality PET bottle preform production. To ensure a continuous supply of input material, Duytan Plastic Recycling has created a plastic waste collection network with more than 100 collection points all over the country. In 2022, the facility recycled over 1.3 billion domestically collected plastic bottles. Duytan Plastic Recycling supplies the produced rPET not only to large FMCG companies in Vietnam, but also exported 4,200 tons to Europe and the US in the past year.