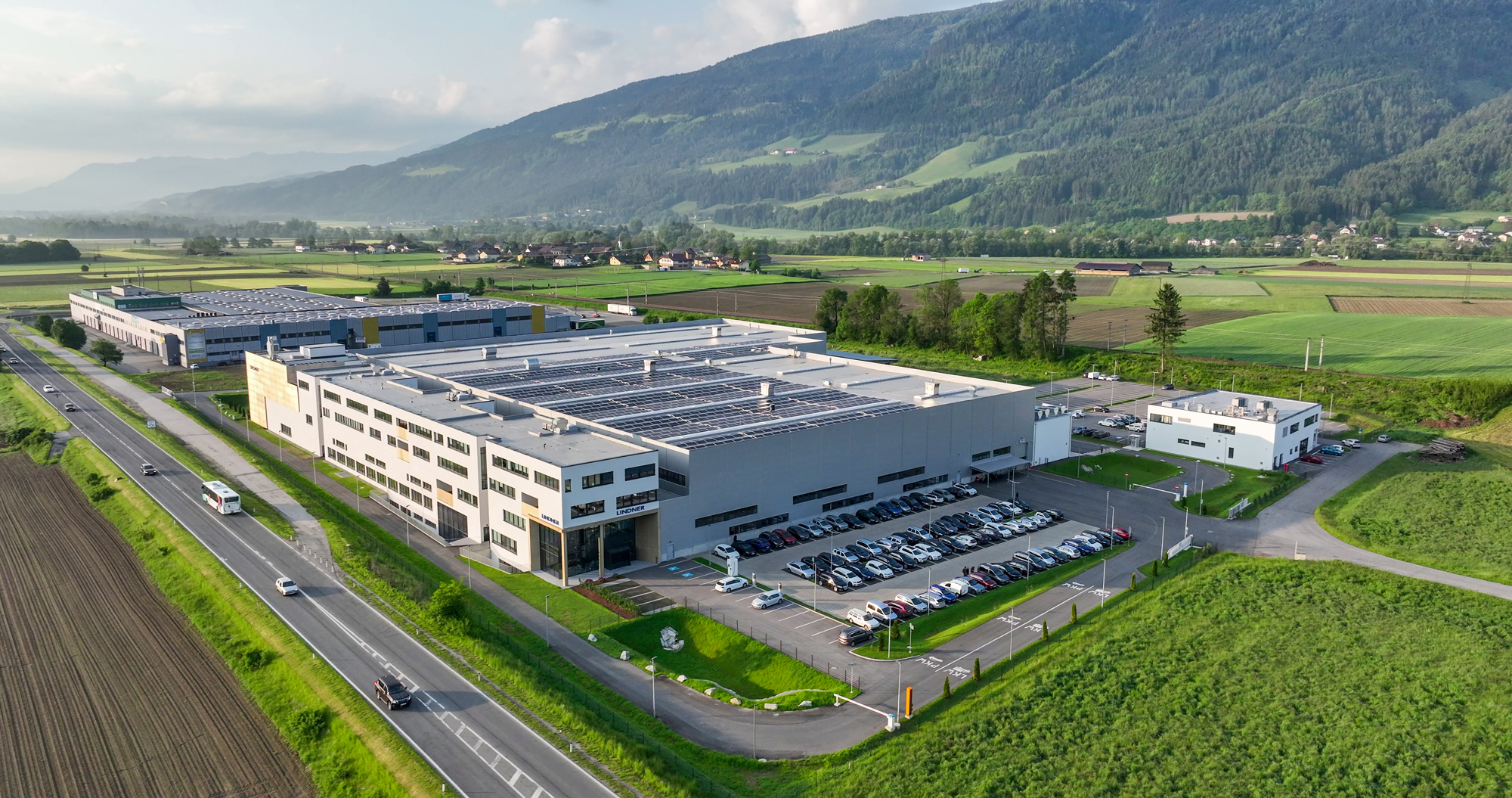 In addition to that the company celebrated its 75th anniversary and the 10th anniversary of its subsidiary Lindner Washtech.
Lindner has been exporting shredders and recycling plants all over the world for 75 years. Since the company was founded, shredders and system solutions have been planned and manufactured in Spittal an der Drau in Carinthia. "The positive market development coupled with the increasing demand for Lindner quality products led to our decision to construct a new plant in 2019 and so to invest around 48.5 million euros. "This turned out to be an important strategic step," emphasises Manuel Lindner, owner and Managing Director of Lindner-Recyclingtech GmbH. "In many ways, 2023 is a historic year for us. We want to celebrate the two company anniversaries as well as the successful move to our new home of recycling together with our long-time supporters and customers."
Automation & Sustainability
With the new plant, the production area has more than doubled in size to 14,000 m². "The high demand for our machines goes hand in hand with a capacity increase – hence why we decided to double the production area. The further expansion of robotics and automation technology in the welding workshop and machining production is just as crucial here because if we want to finish more machines in assembly, we also require more individual components. Thanks to the new production technologies, we can now manufacture a lot of the machine parts ourselves, which is very convenient for us, especially when supply chains are interrupted," explains Manuel Lindner. "By expanding high-tech automation and robotics, we can also offer our employees a better workplace. Physically strenuous work, which was sometimes necessary when loading machines, is no longer required. The focus has now switched to the expert operation of the production machines. We were also able to create a nice atmosphere for our employees in the office building with the new bright and friendly rooms," adds Michael Lackner, Managing Director at Lindner.
As a recycling specialist since its early days, Lindner places great emphasis on sustainability, protecting the climate, and conserving resources. Therefore, a particular emphasis was put on minimising the carbon footprint when planning and constructing the new building. From its energy supply, ventilation, ceiling cooling systems all the way to paving the car park in front of our offices with recycled turf bricks – the company was committed to prioritising recycled and carbon-neutral materials and generating renewable energy. Air source heat pumps and groundwater pumps provide for cooling, heating and ventilation, and the building's own photovoltaic system on the roof provides the necessary energy. "Our new facility is completely energy-independent and is a benchmark in sustainable construction," explains Matthias Egarter, CFO at Lindner and leading Project Manager of the new building. "We generate all our electricity using our own 720 kWp photovoltaic system, and any excess energy is fed into the grid. On top of this, all the energy for heating and cooling is generated using groundwater wells, making the process entirely CO2 and climate neutral."
10 Years of Lindner Washtech
As part of the opening celebrations, the company was also able to take a look back on 10 years of Lindner Washtech, the on plastics recycling specialized subsidiary. "A lot has happened in the market since the company was founded," explains Harald Hoffmann, Managing Director of Lindner Washtech. "Before our company turned 5 years old, the market for plastics recycling was still quite small. Since then, we've invested a lot in product development – in some cases together with our customers. This has resulted in several great products and numerous long-standing partnerships," Hoffmann is pleased to say. "Today, plastics recycling is an integral segment of Lindner's business," adds Michael Lackner, Managing Director of Lindner Recyclingtech. "Lindner Washtech has developed very favourably in recent years; the company supplies or installs complete washing and sorting systems for various thermoplastics worldwide. With Lindner Washtech, we are undoubtedly one of the international big players in plastics recycling".