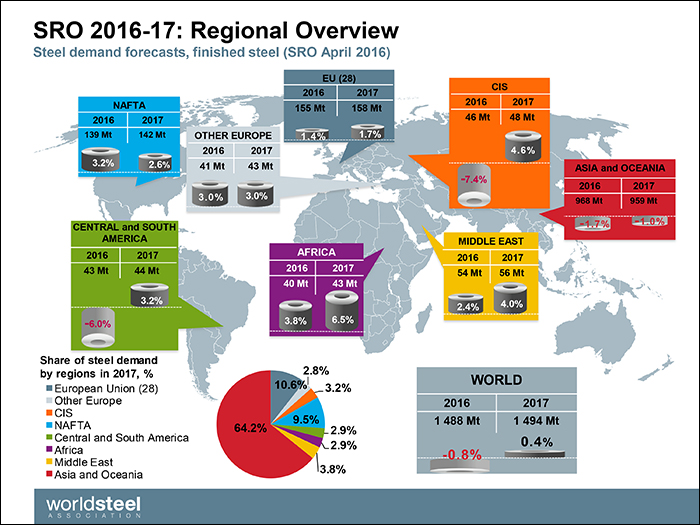 Commenting on the outlook, TV Narendran, Chairman of the worldsteel Economics Committee said; "The economic environment facing the steel industry continues to be challenging with China's slowdown impacting globally across a range of indicators contributing to volatility in financial markets, sluggish growth in global trade and low oil and other commodity prices. The global steel market is suffering from insufficient investment expenditure and continued weakness in the manufacturing sector. In 2016, while we are forecasting another year of contraction in steel demand in China, slow but steady growth in some other key regions including NAFTA and EU is expected. Growth for steel demand in all markets except China is expected in 2017."
According to worldsteel, there are several downside risks to our forecast: the Chinese real estate market and corporate debt problem, anxiety in the financial markets, high (household) debt and volatile capital flows in many emerging economies, geopolitical tensions and unstable political situations in several regions could further worsen the global economic environment.
And further on it says, on a positive note, some emerging economies in South and Southeast Asia show resilient growth and along with NAFTA and the EU will support a recovery in 2017. We expect that steel demand outside China will continue to grow by 1.8% in 2016 and this growth will accelerate to 3.0 % in 2017."
China expected to remain in negative territory
It also states, while rebalancing progresses, the Chinese economy continues to decelerate, it also states. The severe depression in construction activities is contributing to a slowdown in the manufacturing sectors, especially metal products, as well as slower growth in automotive. Moreover, a recovery for the construction sector is not forecast in the near future. Further on it says, that the decline in steel demand in China is expected to be -4.0% in 2016 followed by -3.0% in 2017. This suggests a demand of 626.1 Mt steel (15% down from 2013) for 2017, a contraction to 41.9% of world steel use from 47.9% in 2009 and 44.8% in 2015.