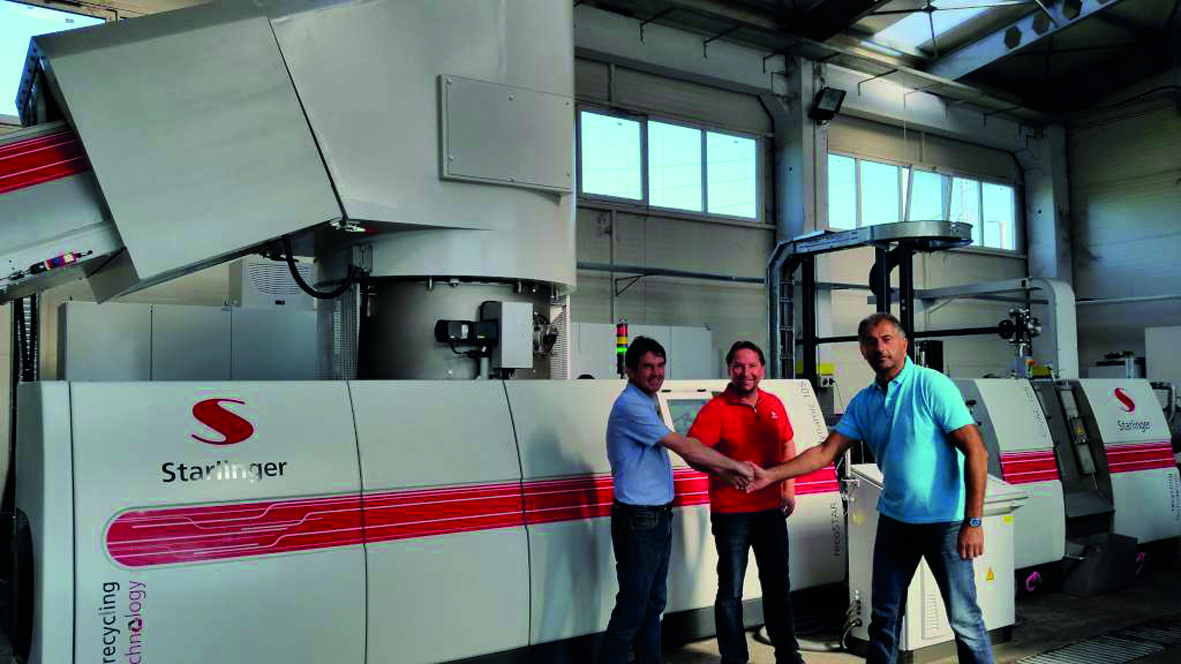 The plastics recycling enterprise Candi specialises in the collection and reprocessing of non-hazardous waste materials with a focus on plastics, i.e. industrial waste such as rejects and production scrap. Candi has a Recostar basic 105 recycling line from Starlinger in operation since 2014. Equipped with the high performance degassing module C-VAC and an Ettlinger melt filter, it processes highly printed films and materials such as PLA, BOPP and OPS as well as plastic materials with up to 10 % aluminium or paper content without problems into high quality regranulate. The line has an output capacity of more than 600 kg/h.
The second Starlinger recycling line went operative in Sollenau in May 2015. On the Recostar universal 85 VAC, which had been in use in Starlinger's showroom and which was overhauled completely before installation, Candi recycles mostly clean, dry materials such as production waste from plastic products industries.
"It was Starlinger's expert advice, flexibility and openness to customer requests that convinced me", says Gheorghe Campan, managing director of Candi Plastic Recycling GmbH. "Unlike other recycling lines, a recoSTAR line can handle problem materials requiring a powerful vacuum system, such as BOPP, OPP, PLA and OPS. The line's flexible adjustability enables it to process also moist material. In short, I can state that Starlinger has fulfilled all that I expected from a recycling line."
In July 2016, a model from Starlinger's newest series of recycling lines – a Recostar Dynamic 105 C-VAC – was installed and commissioned at the company's subsidiary Calex on site in Comuna Grosi, Romania. This recycling line is used mainly for reprocessing collected post-consumer plastic materials and achieves an output of 450-650 kg/h depending on material composition. For the most part, the articles recycled are PP and HDPE pipes, post-consumer LDPE films and post-consumer PP big bags. With the new line, Calex has added to existing plant capacities provided by two washing lines and three other recycling lines.