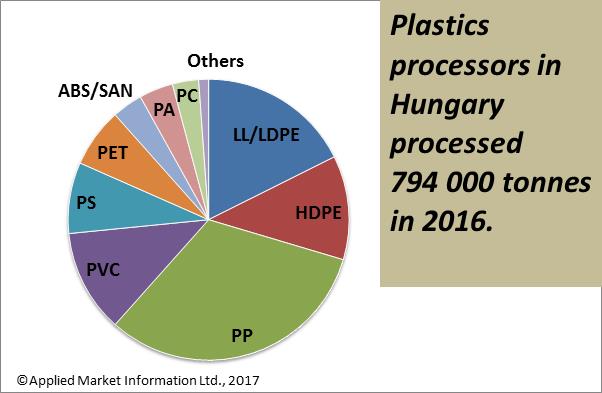 The overall Hungarian plastics market is estimated to be around 2% of the European total and since joining the EU the country has benefitted from significant foreign direct investment, especially in the electrical and telectronic sectors located in a series of strategic industrial parks around the country.
In addition, Hungary has been particularly successful in attracting significant automotive investment which accounts for 7% of polymer demand as well as manufacturers of other consumer products including luggage (Samsonite) and toys (Lego).
It is unsurpsing that injection moulding and film extrusion are the dominant processes in the Hungarian plastics industry, accounting for over 50% of polymer demand across all processes. Future growth in Hungary is expected to be driven by the positive economic outlook for the country, thanks to a strong labour market with rising living standards and an increase in EU funds inflows.
Clearly, in such an environment, Hungary is a country that presents a vast amount of opportunities for different players in the plastics industry. Polymer growth is expected to increase at approximately 2%/year until 2020 driven by further manufacturing investment. Tracking these changes is exceptionally difficult and incredibly time consuming. To help the polymer industry supply chain in Hungary, AMI has just released its latest database of Plastic Processors in Hungary, detailing over 400 plastic manufacturing sites and providing contact and production information for these locations.
Whilst a number of injection moulding locations have closed since AMI's previous edition, a sign of the consolidation amongst the larger players in the region, a number of significant changes have been added to existing and new sites making this the number one tool for staying abreast of all changes in the Hungarian plastics industry.