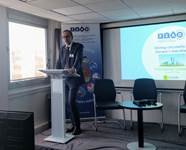 "I am sure Jean-Marc's experience and leadership as Suez's Group Senior Executive Vice-President, in charge of Recycling and Waste Recovery Activities in Europe, and also as chairman of FNADE, the French member association, will be of great value to the FEAD community" said Palmer-Jones. "In his new position as FEAD president, he will play an important role in driving circularity in Europe's industries".
The private waste and resources management companies that FEAD represents have made the transition from waste to resource managers. As professionals, they have the skills and the experience to work with partners across the entire value chain: they cooperate with product designers, they optimise waste collection and sorting and they recover materials and energy.
"I'm convinced that FEAD has a key role to make the transition to a Circular Economy successful" said Jean-Marc Boursier. The private waste and resources management companies that FEAD represents are already in this on-going transition. We have to explain that improving resource and energy efficiency will bring both environmental and economic benefits".
The well-attended FEAD Biennial Conference which took place on the same day was focused on driving circularity in Europe's industries. This was a very opportune moment as by the end of June the European Commission is expected to launch a call for interest in order to set up a Circular Economy platform, which will continue to promote and make the Circular Economy happen by sharing good and bad practices and enhance cooperation between private and public entities.
Representatives from the European Commission joined an interactive panel discussion with the manufacturing industry and the Lund University on how to link up all the actors across the value chain which was appreciated by all the participants from across Europe. "Circular Economy is one of the few areas at European level for growth! We need to bring in a new generation of designers and make sure that consumers have confidence in products with recycled content", said Sarah Nelen, DG ENV. Eric Liégeois, representing DG GROW, focused on the need to create a level playing field between primary and secondary raw materials. Three case studies on plastic materials, phosphoric acid and dismantling of end-of-life aircrafts were presented to illustrate the innovation potential of the sector to maximise value from waste.