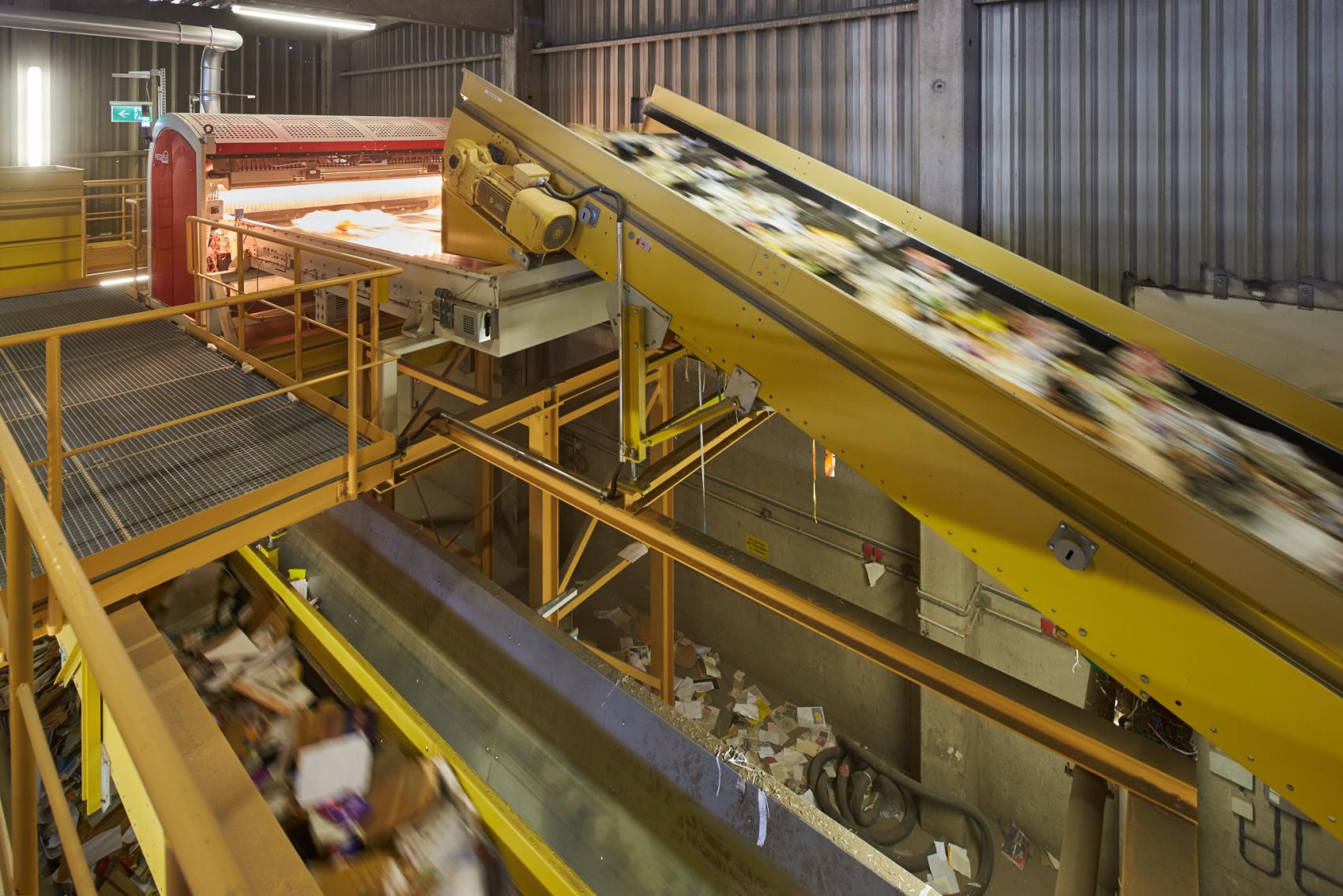 The direction forward in Nuremberg are set for the highest quality standards in the field of waste paper sorting for household waste. To meet the steadily increasing demands on deinking cleanliness and efficiency, Rowe GmbH in Nurem­berg decided to fundamentally renew the existing waste paper sorting system and to bring it in line with state-of-the-art tech­nology.
In terms of fully automatic process optimisation, the paper sorting system that was put into operation at the beginning of this year, achieves the highest possible level of automation in the world while also operating at maximum plant efficiency. This is due mainly to the novel Redwave PMCS optimisation tool. In this process, the control technology continuously uses the material data of the near infrared sorters online and gives a visualisation of the changes in material quality on its display screen. The ma­terial flow is therefore monitored fully automatically and makes peaks in change of material or process disturbances immediately visible. The plant operator can now act and apply corrections im­mediately, if it is judged that product quality will be negatively im­pacted. Rowe achieves a consistently high output quality – even with fluctuating input.
Redwave has created this optimisation tool for its customers, to allow the operator a high depth of analysis of the sorting machi­nes for optimisation of the process. The Redwave PMCS can also be retrofitted to all types of sorting systems with Redwave sorting machines for optimum system control. This software tool is increasingly being used throughout Europe.
Using two sorting lines, the plant prepares about 25 tonnes of waste paper per hour to produce pure grade paper fractions. "Previously, building a plant for 200 tonnes a month, was just about conceivable. Now we do this in our lunch break," comments the technical plant manager and proud operator of the new facility, Karlheinz Mankus from Rowe GmbH, with a smile.
"It was a bold but absolutely forward-thinking step that Rowe GmbH, Nuremberg, took when deciding to completely overhaul its waste paper sorting system. As a result, one of the most ad­vanced paper sorting systems in Europe has been developed. Using a moisture measurement system from Bavaria and the PMCS system from Redwave, Rowe has access to the latest grades of deinking at all times. Due to the ingenious plant concept from Entsorgungstechnik Bavaria GmbH, Rowe can react quickly to changes within minutes and can, therefore, always maintain a consistently high quality level, independent of fluctuations in input. This is a real innovation in the sector and has become an indispensable tool for Rowe", says Ms Angela Hanke, Managing Director of Entsorgungstechnik Bavaria GmbH, who was the plant builder at Rowe.
The sorting system is equipped with tried and tested cardboard and fine screens for separation of cardboard and small conta­minants. Through the use of a specially developed intermediate bunker, the usual fluctuations in the input material are compensa­ted for by the variable, large-area cardboard fraction. The down­stream sorting units can therefore be optimally fed at all times.
After further mechanical separation of medium cardboard, a Redwave sorting machine is installed in each line which separates brown, grey and printed cardboard, as well as other contaminants such as Tetra Pak containers and plastics from the deinking ma­terial by means of NIR technology. A variety of sorting programs can be flexibly, quickly and easily set. Furthermore, the softwa­re of the sorting machine programs can be readily "taught" and expanded at any time according to market demand or customer requirements.
A third Redwave sorting system ensures high output rates and takes over the post-sorting of the spilled contaminant fractions. This machine performs a type of monitoring function and is re­sponsible for returning deinking from the output streams of the optical sorting machines to the paper cycle as part of a positive re-sorting stage. The deinking rate can be increased by several percent.
Managing Director Christian Ascherl-Landauer is certain he has made the right investment at the right time: "As a service partner for the city of Nuremberg, the local region and the paper indu­stry, it is part of our obligation to continuously come forward with technology innovation and approaches that are sustainable. The direction for the future of waste paper sorting has now been set, so that Rowe GmbH can continue to be a significant partner for the paper industry. Due to the long-standing cooperation and trust developed with Redwave and Entsorgungsstechnik Bavaria, we wanted to implement this large-scale project together. We have received excellent and ongoing support from initial planning to final assembly."