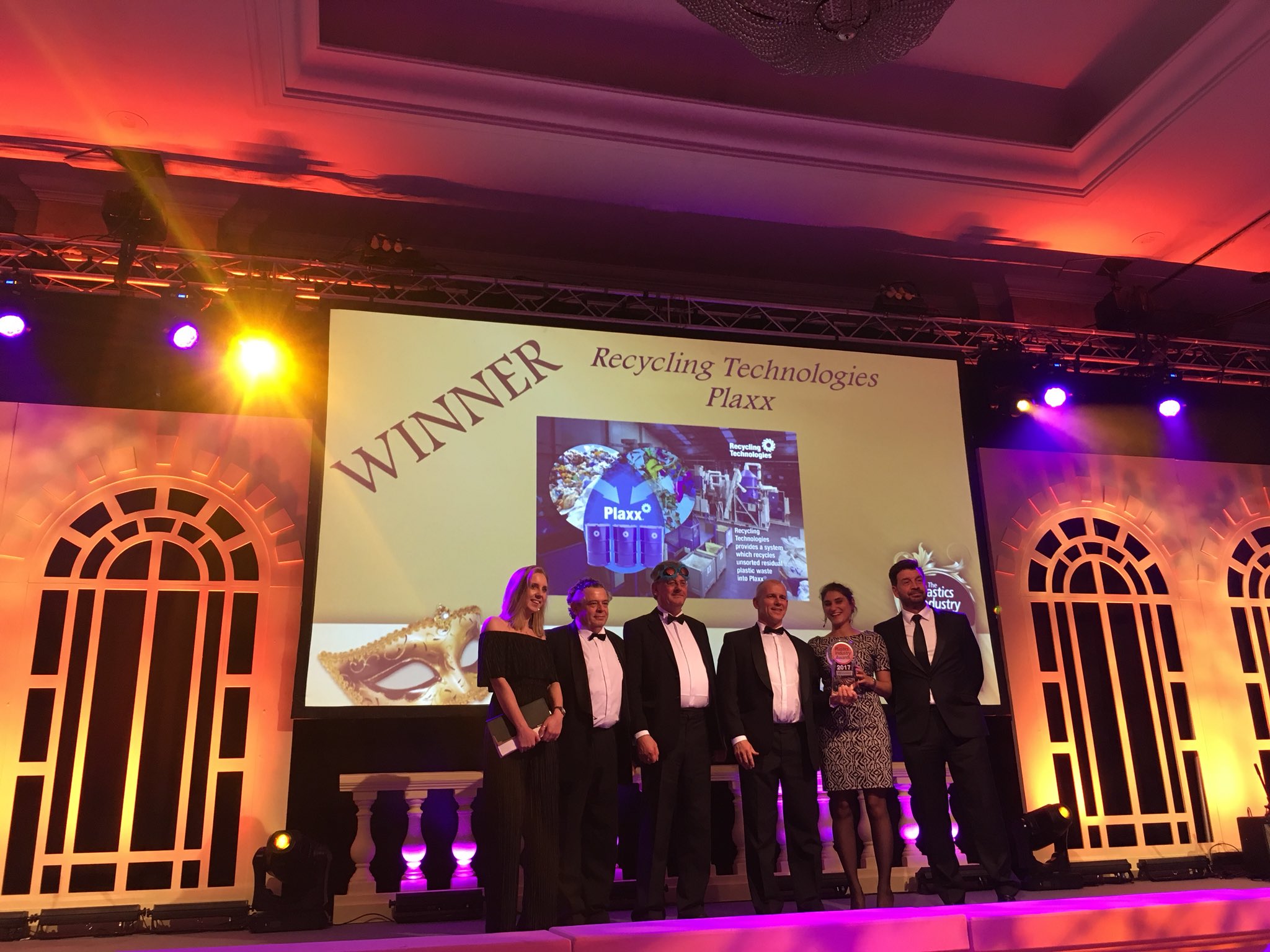 This award gives the plastics recycling industry the opportunity to demonstrate commitment to the environment and saving of resources using recycled materials – according to the statements of Recoup. In 2017 the award's criteria was widened to allow for products in early stages of development, designed within the UK, to qualify for entry, and Recycling Technologies with their Plaxx product shows how technology is redefining the recyclability of plastics.
TV celebrity, Nick Knowles, presented the awards in front of a packed audience of industry professionals at the London Hilton last Friday (27th October). Swindon-based Recycling Technologies beat off four other shortlisted companies: Hahn Plastics, Fishy Filaments, Marmax Recycled Products and Axion Polymers & 1env Solutions.
The delegates to the Recoup Plastics Recycling Conference on 28th September had voted for the winning entry through a one member one vote system, allowing the award winners to be chosen directly from industry peers.
Stuart Foster, CEO of Recoup said "we hope that through connecting with this Award we can encourage many others to consider the business and environmental benefits of using recycled plastics in product manufacturing, and help demonstrate that plastic is a circular resource – something that is increasingly critical to the future success of this industry. Use of recycled content is an automatic requirement not a choice within a circular economy and we need to see significant progress in the use of recycled plastics in manufacturing; whether this can happen without mandatory requirements in the future is unclear."
The award, draws attention to the advancements being made in recyclability of plastics and demonstrates opportunities. Showing what can be done, and how plastics can be transformed, can drive demand for recycled plastics and broaden the spectrum of markets for plastics."
On collecting this national industry award, CEO at Recycling Technologies, Adrian Griffiths, said: "The global issue of plastic waste is growing year on year. Our innovative technology addresses this and chemically recycles mixed plastic waste and turns it back into the oil it came from. We call this oil Plaxx. Our goal is for Plaxx to contribute to the Circular Economy and help build recycling rates for plastic in the UK from the c.40% achievable by mechanical means today, up to 90%."
Working in collaboration with industry and technology partners including UK universities, Recycling Technologies has successfully developed a chemical process, called the RT7000, to recycle what has long been considered 'unrecyclable' waste plastic films, pouches, trays, tubes and laminates which account for over 60% of plastic packaging arisings. The RT7000 converts this mixed plastics waste into Plaxx, a waxy low sulphur hydrocarbon that is distilled into a suite of materials from wax to naphtha, the feedstock for new plastics manufacture. Each unit can annum of waste plastic into approximately convert 7,000 tonnes per 5,250 tonnes of Plaxx.