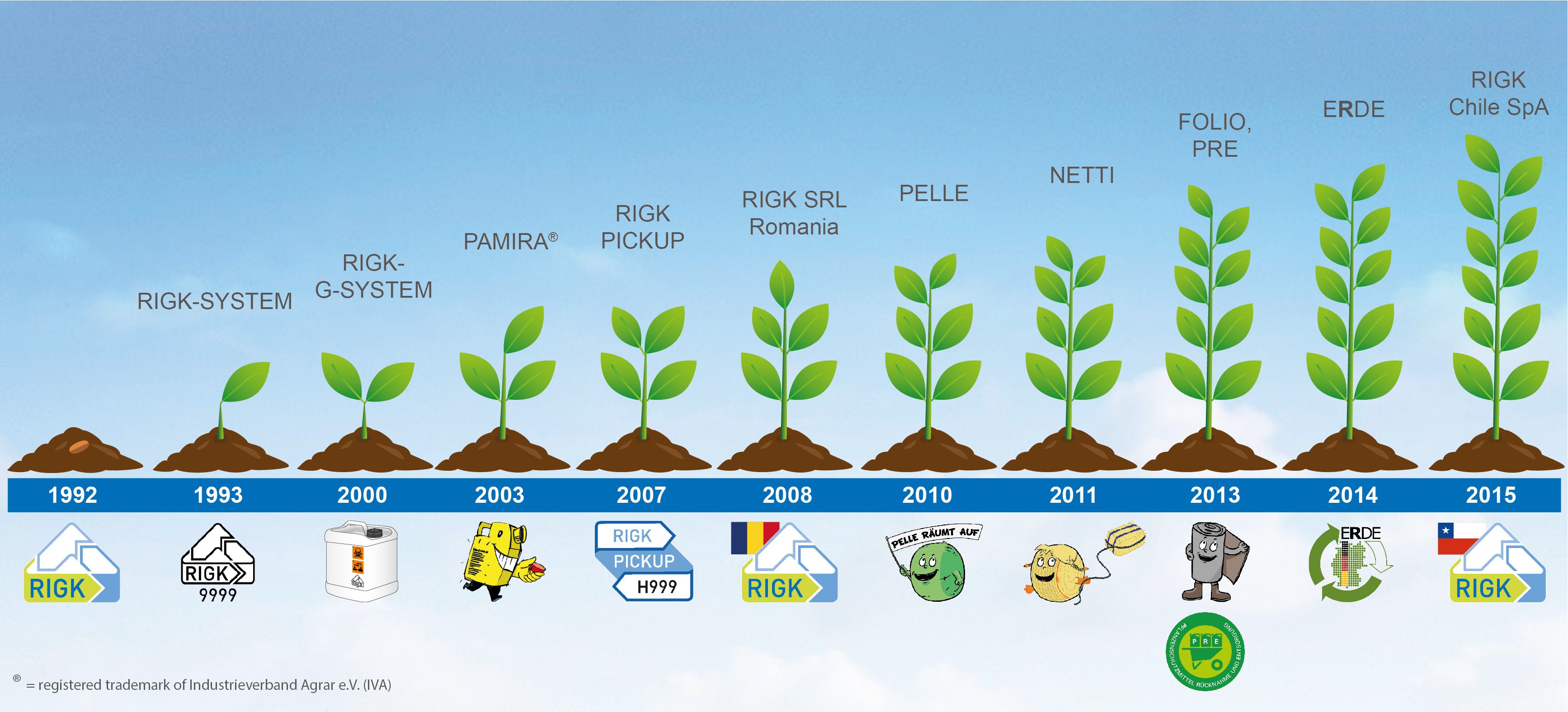 With 28 staff at its Wiesbaden headquarters and 60 staff worldwide, RIGK is operating eight recovery systems in this anniversary year, trading in plastics and providing worldwide project-based consultancy. RIGK works together with some 58,000 customers and over 1,100 suppliers and partners across Germany. RIGK also has a presence in Romania and Chile with subsidiaries which operate recovery systems or implement recycling systems and carry out consultancy projects.
RIGK was founded twenty five years ago following the entry into force in 1991 of the German packaging regulations applicable to all packaging distributors. With an initial staff of two, RIGK has from the outset had the aim of encouraging a move away from a throwaway society towards product stewardship beyond the private domestic sphere. The emphasis, in addition to avoiding plastics packaging waste, was on establishing a private sector system for collecting and using such waste.
Over and above recovery systems and plastics trading, international consultancy is today a significant part in the RIGK's range of services. Consultancy includes project-based activities in Canada and Russia together with subsidiaries founded in Romania and Chile which are assisting with setting up recycling systems both locally and in neighbouring countries.
As RIGK's Managing Director Markus Dambeck explains: "Germany today has a range of highly effective recovery systems which are tailored to end user requirements. As a result, it is achieving recovery and recycling rates which are very close to the EU's ambitious requirements and we have made our individual contribution as a common interest group of the plastics and packaging materials manufacturing industry. In the light of increasing demand for packaging from a growing global population, the finite nature of many raw materials and the typical persistence of plastics waste, the challenges facing the circular economy set out over 25 years ago remain as current as ever. Moreover, the current EU waste package with its ambitious plastics recycling rate of 55% by 2030 and the EU Plastics Strategy will require a further intensification of the existing, responsible collection and recycling activities. RIGK will strive to perfect existing systems and develop new, yet more efficient ones. We see ourselves as an active player constantly facilitating an unbureaucratic dialogue between associations, businesses and manufacturers with the aim of improving recovery and recycling systems. Our work also includes defining usage-based licence fees and the associated evaluation of the recyclability of packaging materials and package contents as well as ongoing optimisation of return processes for everyone concerned."