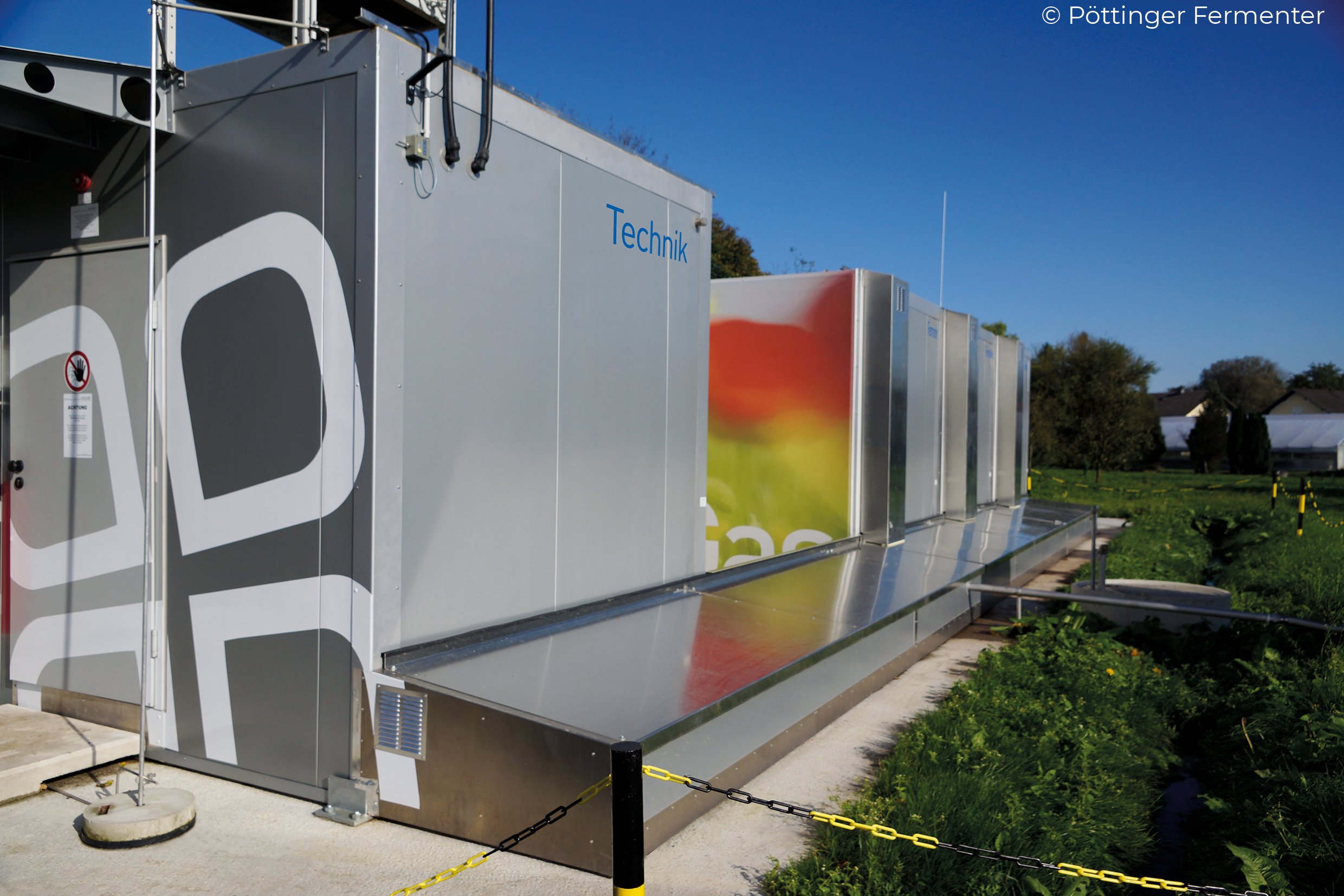 Inspired entirely by nature, the Pöttinger Fermenter is optimised for the recycling of organic residues. Unlike simple disposal and burning, the material cycle closes both in terms of economics and ecology when a Pöttinger Fermenter is used. The intelligent combination of biogas generation and composting therefore not only adds up in financial terms, but it also saves the atmosphere around 267 kg of CO2 per tonne of bio-waste.
The Pöttinger Fermenter is a flexibly scalable system comprising a container box with integrated control unit and at least 3 and up to a maximum of 15 further container boxes for residue conversion. Its capacity is 58 m³ in each case. Thanks to its modular structure, the system can be adapted to individual requirements with annual capacities of 1,000 to 5,000 t. The containers are not concreted and are therefore also not tied to one location. A reduction in the output required is therefore just as quick to implement as an increase. The self-contained system inside the Fermenter boxes also means a significant reduction in odour emissions with sensitive input materials, such as leftover food, out-of-date produce and sewage sludge.
The recycling of organic residues in the containers is based on the process of dry fermentation. In a three-stage process, CO2-neutral methane is produced which can be converted into green power and heat, purified into bio-gas with the quality of natural gas or can be used to power bio-LNG vehicles. Following this three-week fermentation cycle, the former waste can be easily turned into compost and therefore used as a high-quality humus fertiliser.
The investment costs for the infrastructure required and operation of the system are manageable. Existing technology such as wheel loaders or compost turners can be used. Additional equipment, such as stirrers or pumps, however, are not required. The starter material does not need to be pre-treated and requires no further intensive input during its time in the Fermenter. 
Perfect for a locally autonomous recycling economy, the Pöttinger Fermenter is especially suitable for use in agriculture, the food industry, local waste management or as an addition to existing composting facilities.
In local authority use, for example, the energy obtained from only around 1,000 tons of bio-residues can be used to provide around 40 households with electricity and heat.