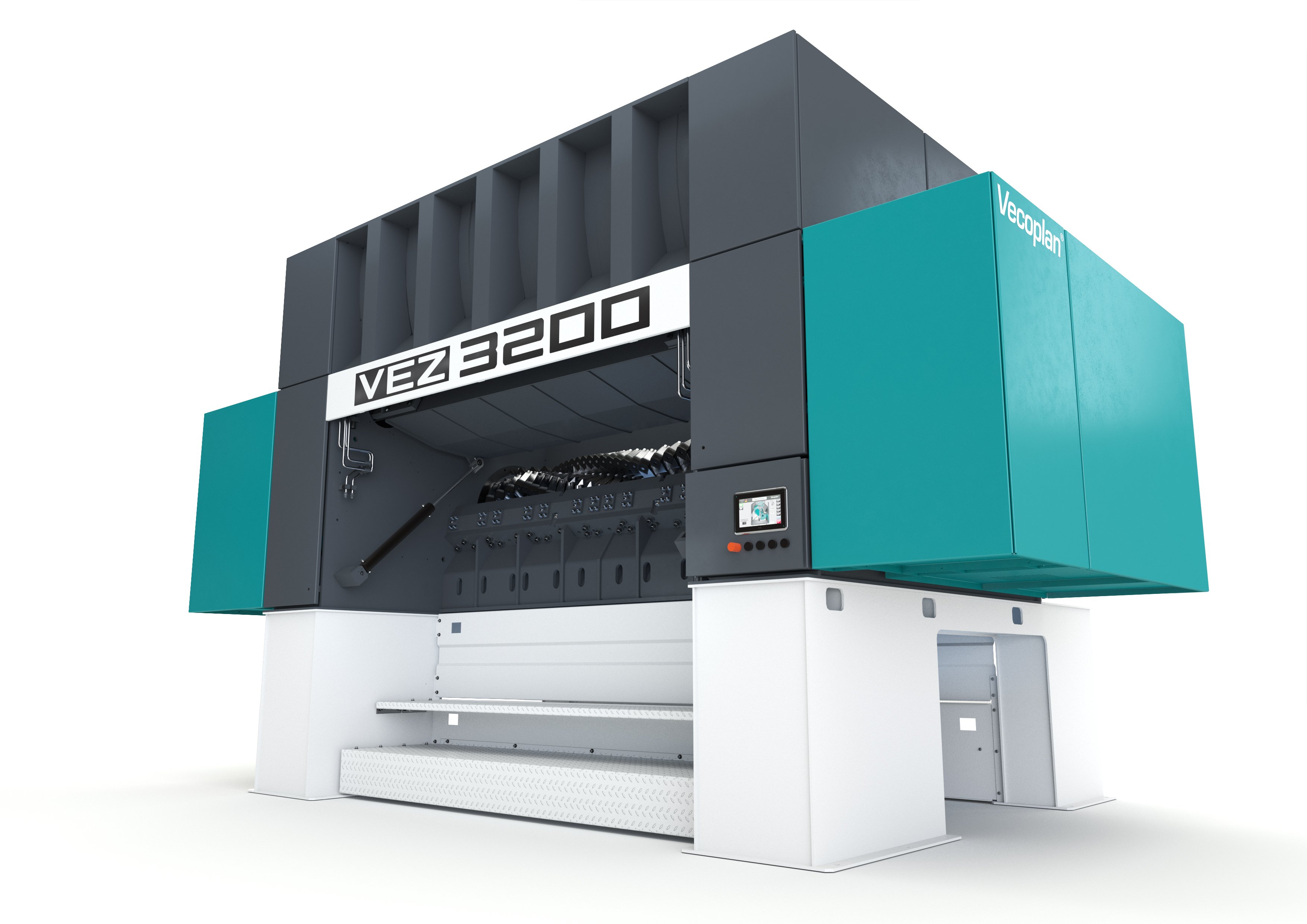 The VEZ 3200 was developed on the basis of the successful VEZ 2500 TV, with the goal of developing still stronger, more powerful and still more economical components. All areas which in the shredding process are subjected to particularly high forces and loads are strengthened in focused fashion.
In addition to this strengthening and the more compact outer dimensions, a lower loading sill was realised that united the wheel loader/the stacker feeding of the machine. Thus, customers can do without additional materials handling for the feeding of the machine. The function of input material – in particular also larger balls – is no problem because of the large interior volume of the VEZ 3200: Balls with an edge length of 1200 mm can be directly fed into the power pack. The improved sheet valve, coordinated with the most different input material, ensures an optimal shredding process even with difficult or very light input materials with a continuously adjustable valve speed. A further new machine feature: Thanks to the closed structure, all danger points in the outer area of the machine are inaccessible, the sensor and all wires to the different media are protected against coarse dirt, falling input material, and all external mechanical effects.
The Vecoplan replacement fuel shredder is usable in various ways: As a preliminary crusher for the manufacture of sortable and eligible material for replacement fuel manufacture from production residues for the manufacture of a kernel size < 250 mm and as a single-step shredder for the production of a kernel size of up to < 50 mm. The high-performance cutting system is characterised by the creation of a homogeneous kernel structure, maximum throughout performance and reduced heat development for an energy-saving shredding process. The rotor knives consist of up to 4-fold usable hardened individual knives and can be exchanged with the V-form centring seat; this also minimises the wear and operating costs. The counter knives consist of several individual segments, which are used up to 4-fold and are individually adjustable from the outside. Thus, an optimal cutting gap is ensured, whereby the heat development and the energy need in the shredding process are reduced to a minimum. The flanged shaft journals make possible a fast rotor change without disassembly of the storage and drive, the reduction of maintenance costs, and the increasing of availability. The VEZ 3500 is equipped with the HiTorc® drive unit; this revolutionary gearless drive with a variable speed high-torque motor is nearly maintenance-free and low-noise; equipped with the most modern frequency-conversion technology, the start-up current, level of efficiency, and torque are optimised. Power peaks are adjustable and limitable, thus significantly lower power costs are achieved in comparison to conventional drives. The very high torque available across the entire speed area makes possible a problem-free start-up under load and the reversing procedures during overload are very dynamic.