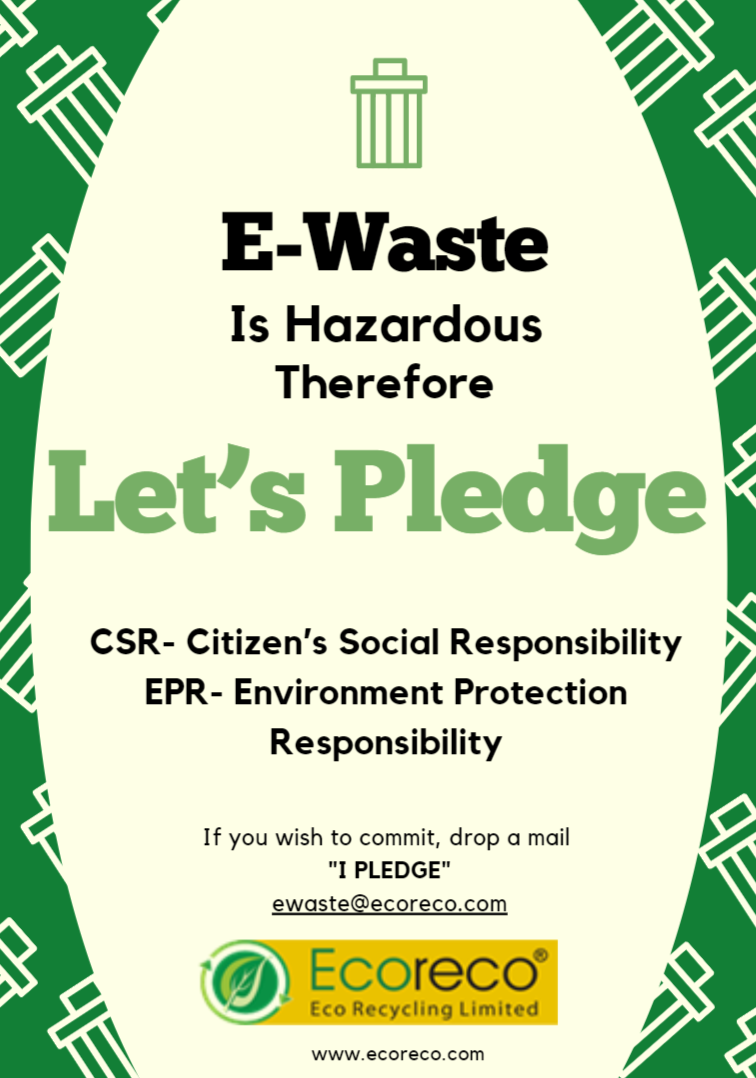 Dear Members
It is pleasant to be with you at the 26th Annual General Meeting of our Company along with my colleagues on the Board. I am sure, you all must be keeping well during the outbreak of the Covid-19. The corresponding lockdowns to avoid further spread & protect lives because of pandemic have changed the way we used to work and conduct meetings. At the same time, we must thank almighty for giving us an extraordinary ability to find ways & means to come out of the challenges with new inventions during such testing times. I wish, we come back to our normal life with new learnings at the faster pace.
As a Shareholder of this unique venture, I am sure, you must be keeping track on your Company's every communication and performance and I am equally sure that you must be feeling very proud that you are a part of a Company which is working for the Betterment of the Environment & Saving Natural Resources, at the same time building Shareholders' Net-worth.
Performance in retrospect
I must thank all our Employees, Auditors, Company Secretary, Board Members and other agencies who put in their best efforts to get the Annual Report completed well ahead of the outer date prescribed by the Authorities, in spite of the restricted movement. I am also thankful to the MPCB, CPCB, MoEF, Bankers, Clients, Vendors without their support, we could not have done anything. I am pleased to share that for the year ended 31st March 2020, your Company did better on all fronts as compared to the previous year but would have certainly achieved better had there not been any unavoidable restrictions because of Corona Virus. But for the larger objectives of the Nation, it is not always the financial gains which matter and we are sure Members & other Stakeholders of the Company will certainly agree to our feelings. I am proud to mention a few significant milestones achieved during the 25th Anniversary of your Company, one the Company declared and paid 1 Bonus Share for every 10 Shares held and the second that the Company completely paid off all term loans & cash credit facilities to the Bank out of its internal sources.
Ecoreco has the distinction of being the only organized player in the e-waste recycling industry in India that is listed on the Bombay Stock Exchange. As the pioneer E-waste Recycling Company of India since 2005, the Ecoreco has set several milestones for the fellow industry players to follow. Very soon Ecoreco will be operating another Material Recovery Facility (MRF) spread over in 50,000 sq. ft. with a processing capacity of 50,000 MTPA of end of life devices. This facility will not only be equipped to process IT, Telecom, Electrical Equipment & Lamps, as in case of the first facility but will also add some more end of life items for recovery of all kinds of plastics, glass, metals and other useful material as well as hazardous substances. As a matter of philosophy and to avoid unnecessary burden on natural resources. Ecoreco always prefer to refurbish & remarket used but still having useful life, whether it is IT equipment or any other item.
We are pleased to further state that, our Company is gradually increasing fee-based services for its clients in India and in other Countries. As a matter of global foot print, Ecoreco is presently serving in 20 countries and gradually enlarging wings either directly or with the help of Partners to reach 50 countries in near future. You will be pleased to know that Ecoreco has enlarged its own fleet of vehicles for transportation of e-waste from all the major cities and have also added Recycling on Wheels for shredding proprietary & valuable devices at the client's location. This new service along with Data Destruction on Wheels, Lamp Recycling on Wheels have really established great credibility of your company and has really enhanced the client's trust & confidence in Ecoreco's services. I am really very proud to mention that for these unique services & other activities, your company has won Awards from DST, Lockheed Martine, FICCI, CII, NVI, WRI, Municipalika, Sankalp, Frost & Sullivan. We see very great demand of these services from the clients who extends greater importance to Legal & Environmental Compliances and Data Protection. I would like to stress that the Corporates must take care of their Data Devices and avail any or all the services of Ecoreco, viz Delete-Degauss-Destroy for Safe & Secured Destruction of the valuable Data. As it is being said that Data is new gold but if in wrong hands can ruin business.
The Untapped Opportunity
As you better know, in the present time, consumption of electrical & electronic devices is directly related to our socio-economic growth and therefore generation of e-waste should not be considered as a problem but a by-product of our enrichment. When Ecoreco started its journey in 2005, as per the study of IRG, e-waste generation in India was 146,185 MT. In 15 years, this number has grown more than 20 times and is as high as 3 million MT. The story does not end here, in fact it begins from here, United Nations University (UNU) states that global e-waste will increase by 38 per cent between 2020 and 2030. About 53.6 million tonnes (MT) of e-waste was generated globally in 2019 which is nearly 21 per cent increase in just five years. Asia generated the greatest volume, 24.9 MT of e-waste in 2019, followed by the Americas at 13.1 MT and Europe 12 MT. The study further mentions that during 2019, less than 18 per cent of the e-waste was collected and recycled, whereas the balance quantity was either dumped or burned to recover fraction of the reusable commodities.
Although, in context to India, one thing can be safely mentioned that in our country hardly any waste goes in landfill which has some monetary value as against the developed world. We should be thankful to our Kabadies (informal workers) who have so far shouldered the entire burden of collection to dismantling of such waste but they are now expected to respect the Environment Protection Act and have to integrate themselves with formal channel of recycling of e-waste in the best interest of themselves and the society in general.
Irrespective of who was handling so far and what damages have been caused to the environment & ecology versus who needs to shoulder this responsibility now? The monetary value of contents in 3 million MT of e-waste is of the magnitude of INR 20,000 Crores and considering CAGR of 21%, the generation of e-waste should touch 8 million MT in next 5 years having monetary value of INR 60,000 Crores.
WEEE the Changemaker
Dear Members, for most of us, electronic equipment is an asset and therefore when these items reach to their end of life, we still expect best monetary value for these dead assets but ignore its mishandling & environmental impact. Since this approach is deeply rooted and therefore to bring change, your company started number of Action Cum Awareness Programs, which include installation of Eco-Bins at various educational, commercial & public places to drop small items of e-waste, which will gradually enhance our inclination towards environment as against monetary value. Your Company also uses a Mobile Application namely BookMyJunk (www.bookmyjunk.com). This unique platform may be availed by every citizen and your Company's dedicated team reaches to their door step to collect e-waste at no cost to them. We can also do the following in the National interest:
Citizens Social Responsibility (CSR)
Your Directors are of the view that if we adapt better practices to safeguard environment, it does not cost us but cleaner environment certainly enhances our health and indirectly we save on medical expenses and also increase our productivity, which are direct financial gains. Your Board would certainly appeal to one & all to kindly extend your wholehearted support to the Citizens Social Responsibility (CSR).
Environment Protection Responsibility (EPR)
Your Directors also suggest that whenever we discard any electrical & electronic device, we must handover or deposit the same in the Eco-Bins or Ecoreco Take Back Point or make sure that when you exchange for another product or cash your discarded device reaches to an authorised recycling center only. As we all know that the Central Government has enforced E-waste Management Rules in the Country having an important provision under which the Producers of the respective electrical & electronic devices are primarily responsible to get these end of life devices collected from the end user and channelize the same for recycling, this is globally known as Extended Producers Responsibility but as an informed user of such devices, we must follow the basic principle of Environment Protection Responsibility rather than simply shifting our responsibility on Government or Producers.
Skilling & Integration of the Informal Sector
Your Directors are extremely proud to inform that Ecoreco Enviro Education Pvt Ltd (A wholly owned subsidiary of Eco Recycling Ltd) is the proud funded partner of NSDC (National Skill Development Corporation) for upskilling of the Kabadies and any aspirant who considers Waste Management is a Career Building Opportunity. Your Directors would like to thank to as many as 500,000 Kabadies of the Country who are still handling and dismantling more than 95% of e-waste generated in our Country but they must now realize that they have to either transform themselves by upskilling & adapting environment friendly practices of dismantling and recovery of materials or should join the Authorised & Registered Recyclers for the continuity of their livelihood. They must believe that their reach & presence at every nook & corner of the Country makes it much more economical to collect e-waste over & above their hands-on experience are extremely important elements of going together. It is not a competition but complimentary model. Your Company has derived Training Cum Entrepreneurship Model for them and can support them to start their own Ecoreco Take Back Point. We can encourage them to avail such programs in the best interest of all.
Government's Intervention
The organized recycling of e-waste in our Country started with the entry of Eco Recycling Ltd in 2005 as the first Authorized & Registered Recycler by the Central & Maharashtra Pollution Control Boards. In this regard, the guidelines were issued by the Ministry of Environment (MoEF) in April 2008 and later on the first set of E-waste Management Rules in 2011 but subsequently the Ministry modified and finally the present Rules are in force since 1st Oct 2018. To promote Recycling in India, The Niti Aayog has drafted a National Recycling Policy, the same is under consideration at different Ministries, let us hope that the same gets implemented faster. At this point, it may not be out of place to mention that, India needs to also set up Metal Refineries, so that the increasing requirement of valuable metals are also locally met rather than spending foreign currency on the same.
Producers' Intervention
In the above Rules, the Ministry incorporated the globally accepted principle of Extended Producers' Responsibility (EPR) along with yearly targets for e-waste collection from the end-consumers for the Producers of electrical electronic equipment.
Going Forward for Ecoreco
Your Company is tirelessly working to develop greater awareness of formal recycling of e-waste and I am proud to share that our efforts are gradually changing the canvass in the country. In this regard, we have always received great support of the media.
For Ecoreco, the year 2020-21 has started with an optimistic note. The Company has bagged a prestigious business of providing E-waste Management Services in various countries across the globe. Ecoreco won this contract amidst stiff competition from other global players which is a reinforcement of Ecoreco's strengths and credibility at Global level.
The outbreak of pandemic has necessitated global manufacturing giants to look at India for alternate manufacturing base, as a de-risking measure. This goes very well for the country and several domestic players across industries. India has emerged as the preferred destination and stands to gain immensely as major manufacturing hub for various communication, computation & electrical devices. Eco Recycling being no exception is quite motivated about the emerging opportunities. Further, in tune with Prime Minister's Atmanirbhar Bharat Policy, the Government of India has also taken commendable steps to boost domestic manufacturing & exports. As many as 22 domestic and international firms–including Apple's contract manufacturers and Samsung, Lava, Dixon, etc. have lined up aggressive plans for setting up manufacturing base for production of mobile phones in India. The recent investment lined up under the Government's PLI scheme is expected to produce around USD 150 billion of mobile phones over the next five years in India. This additional production is likely to generate around 50,000 Crores of worth of commodities on recycling out of additional e-waste so generated. If we go by the Central Government's estimate of consumption of electronic equipment of 400 billion USD by 2025, e-waste generation by 2030 should be of INR 150,000 Crores. The above numbers are very large to impact the environment if e-waste is not processed scientifically and a direct impact on the exchequer, if not formally done.
This enhanced opportunity for e-waste business for India coupled with strict adherence of the already prevailing Extended Producers Responsibility (EPR) Policy, will generate significant volumes and business for the technology equipped & compliant e-waste recyclers. Eco Recycling Ltd, with an established track record and technologically advanced processes to recycle e-waste is appropriately placed to gain substantial market share in the space. As mentioned before, the upcoming another facility of 50,000 MT near Bhiwandi, Thane, Maharashtra will accelerate Company's growth both in terms of revenue and profitability. Besides this, The Company is gradually focusing & increasing its revenue from services also. Your Company is also increasing emphasis on new geographical regions for inorganic growth either by acquisition or building long-term association with further investment in process & technology.
On behalf of the Board of Directors, I once again express my gratitude to all our Customers, Investors, Suppliers, Collaborators, Government, Pollution Control Boards and especially Employees, who have been supportive all along to maintain Ecoreco's Values and realizing Vision & Mission. With the continued support of all the stakeholders, your Directors assures you to achieve greater heights, brighter future and increasing net worth of the investors.
Before I sign off, I extend my personal thank to our PCS, RTA, CDSL, NSDL & BSE for their kind support in conducting the 26th AGM virtually.
Thanks everyone for your active participation.
B K Soni, Chairman & MD Eco Recycling Ltd