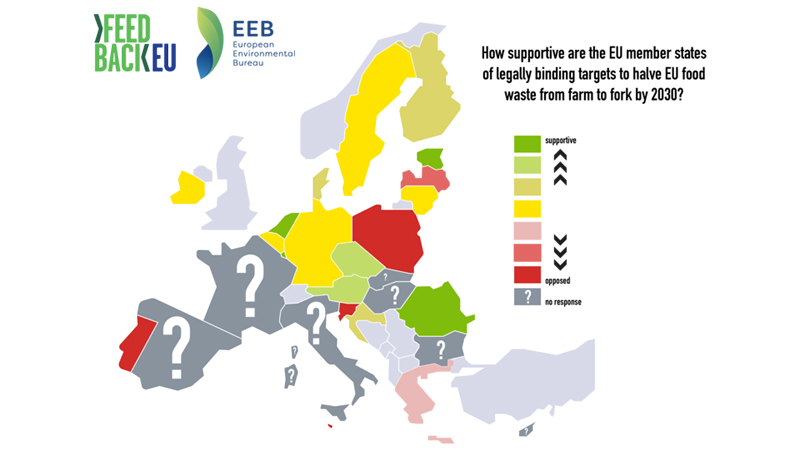 Campaigners have praised Romania, the Netherlands, Luxembourg, and Estonia for "leading the world" by expressing support for the introduction of legally binding targets for member states to reduce EU food waste by 50% from farm to fork by 2030. Other member states like Austria, Denmark, the Czech Republic and Croatia also expressed support for legally binding EU food waste targets, but for now stopped short of clearly back 50% farm to fork reduction by 2030.
In contrast, Poland, Malta, Slovenia and Portugal currently oppose the setting of any legally binding food waste targets for EU member states – in a move condemned by campaigners. Greece and Latvia also currently oppose setting targets at 50% or farm to fork, preferring lower targets for only limited parts of the supply chain.
Many other member states are currently remaining neutral or undecided. Findings are the result of a survey sent by Feedback EU and EEB to the Ministries in each EU member state with responsibility for food waste policy, between June-September.
The Commission is due to make a proposal for legally binding food waste targets for EU member states later this year, with formal adoption by 2023 – a decision which is influenced by consultation with EU member states. Negotiations with the European Parliament and Council will then decide on the ultimate targets – the Ministries in each country will shape the Council's position. If adopted, this will be the first legislation of its type in the world.
48 organisations from 20 EU countries have now signed a joint statement calling on EU policymakers to introduce legally binding targets for member states to cut EU food waste from farm to fork by 50% by 2030, within scope of current reporting, and review extending reporting covering all on-farm food waste. The signatories include NGOs Feedback EU, European Environmental Bureau and Zero Waste Europe, food waste businesses Too Good to Go and OLIO, and members of the EU Platform on Food Losses and Food Waste – the EU's official advisory body on food waste.
It is estimated that the EU wastes 140.6 million tonnes of food each year – more food than it imports, according to a report from environmental organisation Feedback EU published in September. Food waste also costs EU businesses and households an estimated €143 billion a year, and causes at least 6% of the EU's total greenhouse gas emissions.