"Interested and potential customers are convinced by the very successful trials with their input materials in our Technical Center", explains Paul Niedl, Commercial Head of Starlinger recycling technology. "Our three-step procedure eliminates even deeply embedded odours. This gives our customers completely new application opportunities for their regranulate. The last months also showed that the market is clearly in need for a solution in this area."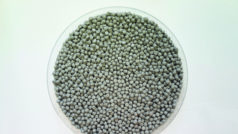 Post-consumer plastic scrap often contains migrated substances from food, cosmetics or cleaners, which cause an unpleasant smell during the recycling process. But also residues of monomers, oxidation or hydrolysis, as well as decomposition products (VOCs – volatile organic compounds) can be the reason for unwanted smells in recycled granulate. Depending on the polymer type, source or type of the odour, its intensity, and the specifications of the produced regranulate, Starlinger recycling technology individually adapts the recycling and odour reduction process according to the needs of the recycler. It basically consists of the stages material preparation, degassing, and post-treatment.
Material preparation: the SMART feeder heats and homogenises the input material until the ideal operating point is reached. Highly volatile odours are already extracted during this process.
Degassing: the C-VAC degassing module after the extruder increases the melt surface by 300 %, thus achieving an extremely high degassing efficiency. This results in permanently removing also deeply embedded odours.
Post-treatment: The odour extraction unit at the end of the process gives the regranulate the finishing touches. Here, the most persistent odours are reliably extracted and removed permanently.
With Starlinger's odour reduction technology, recyclers of post-consumer plastic scrap have the opportunity to turn their input material into a high-grade secondary resource: excellent and homogenous regranulate quality and permanent odour reduction ensure the reuse of the regranulate to up to 100 % also in demanding applications.