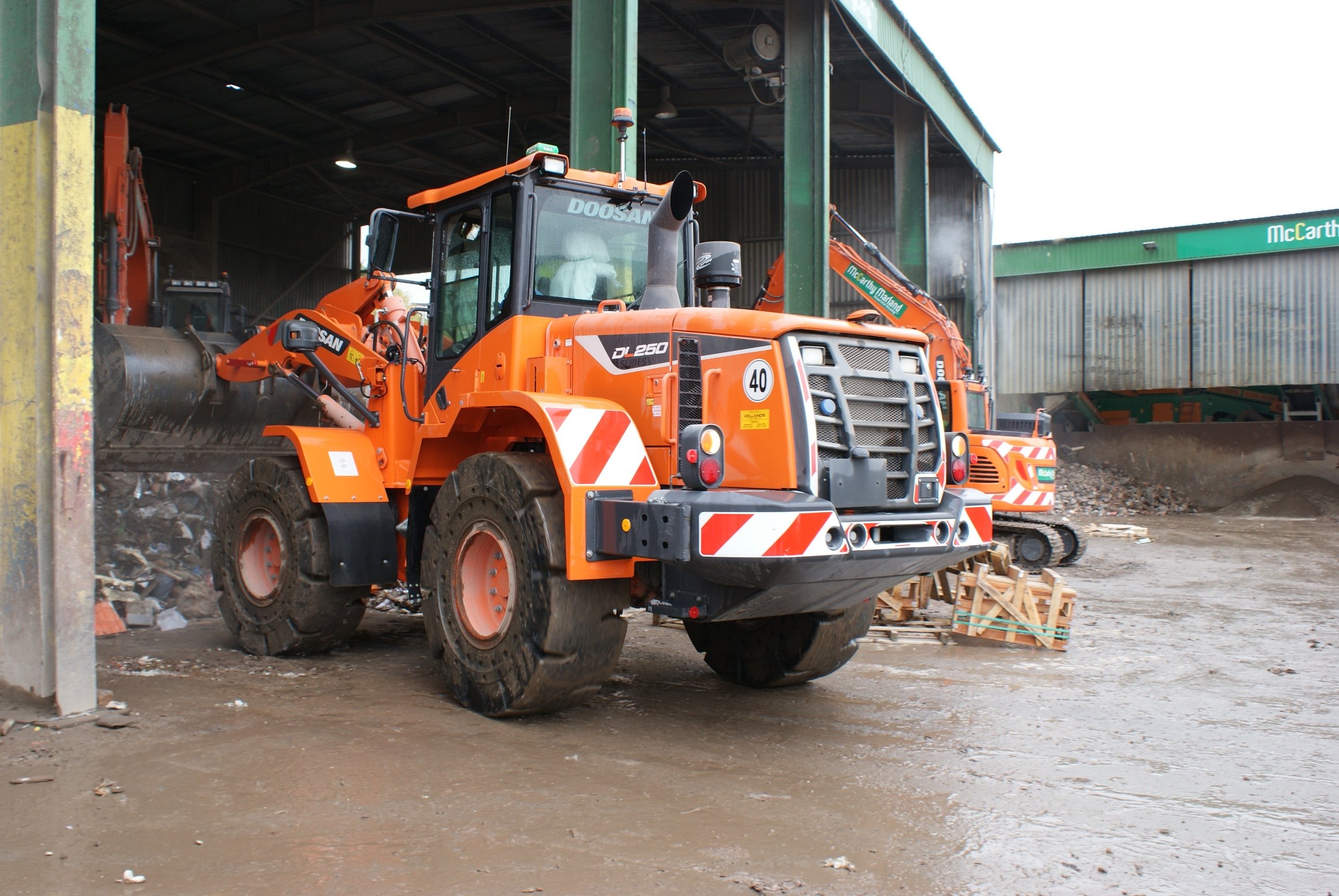 The new Doosan equipment was purchased from local Authorised Doosan and Bobcat dealer, Kellands (Plant Sales) Ltd of Bridgwater in Somerset. With depots in Bridgwater and Camelford in Cornwall, Kellands (Plant Sales) Ltd is the authorised Doosan and Bobcat dealer for the whole of South West England, covering the counties of Somerset, Dorset, Wiltshire, Devon, Cornwall, North Somerset, Bath and North East Somerset, Bristol and Gloucestershire.
Formed in 2001, McCarthy Marland was created to fill a gap in the local market for removal of both domestic and commercial waste and the company delivers and collects hundreds of skips of different sizes every day throughout the South West. Over the last 16 years, the company has grown rapidly, taking on extra personnel and increasing its fleet of lorries and skips on a regular basis to satisfy demand.
Complete Peace of Mind
Kevin McDonagh, Operations Manager at McCarthy Marland, said: "We have been purchasing Doosan machines for over 10 years now and they have always performed well in our busy sorting and loading operations in Bristol and the new Doosan equipment has impressed our operators.
"As part of the latest deal, Mark Payne, Sales Director at Kellands, was able to arrange a very good package including a three year warranty and a three year service contract, giving us complete peace of mind.  Using his knowledge of the industry, Mark has also ensured the machines have been set up with the correct specifications for our applications."
At the St Philips facility, McCarthy Marland accepts nearly all waste types for recycling and any size of delivery vehicle, from car and trailer up to articulated lorries.  Well-honed tipping procedures ensure that waste disposal customers benefit from quick turnaround times with minimal fuss.
Recycling is an essential part of the business at McCarthy Marland. The company recycles around 95% of waste materials that come into St Philips using state-of-the-art waste segregation technology, which enables it to recover as much recyclable material as possible so that it can go on to be reprocessed and reused.  This includes a significant amount of material sent on to waste to energy companies in Newport and Cardiff in Wales.
Kevin McDonagh added: "We provide our customers with skips or roll-on roll-off containers to be filled with waste materials.  With our guidance and blessing, more and more of our customers are choosing to separate the waste themselves on site, which makes it easier to handle the recyclable materials when they come to us, so we can recover materials such as wood, soil, ferrous and non-ferrous metals, plastics, cardboard, plasterboard and hardcore."
Complementing the new Doosan machines meeting the very latest Stage IV emission regulations, the commitment to protecting the environment at McCarthy Marland continues in the company's fleet of lorries, which are all low emission 'Euro 6' category vehicles and they come in a range of sizes allowing easy access into difficult-to-reach urban locations.
McCarthy Marland also operates the latest waste management logistics software, enabling optimum routing and timing of its delivery and collection services.  The technology includes an automated communication system with the facility to text and email customers when drivers are on their way.
The small proportion of the waste that is not recyclable is sent to end-disposal sites, each one fully licensed by the UK's Environment Agency and audited regularly by senior management at McCarthy Marland.  All of the chosen disposal sites are in close proximity to the St Philips facility, minimising emissions from the company's bulking vehicles.
Higher Power – Lower Fuel Consumption
Like all Doosan's Stage IV compliant models, the DX140LCR-5 excavator offers increased performance, durability and fuel efficiency, with a focus on greater power, robustness and versatility.  It is powered by the Perkins 1204F engine, which combines reduced fuel consumption with the power and torque of larger engines with a smaller displacement. The engine provides a 6% increase in power with an output of 85.9 kW (115.3 HP) at 2000 rpm and a 3% increase in torque.  Swing torque has also been boosted by 28%.
Trouble-free operation is guaranteed by meeting Stage IV emission regulations without the need for a diesel particulate filter (DPF), through the use of cooled exhaust gas recirculation (EGR) and diesel oxidation catalyst (DOC) after-treatment technologies.
Fuel consumption has been lowered by up to 10% compared to the previous generation machine.  As well as the Stage IV engine, new systems and functions have been incorporated to achieve this significant result.  For example, the current fuel consumption can be read directly on the LCD panel and the engine can be shut off automatically after a pre-set time when the machine is not being operated.  In addition, to save fuel, Doosan has developed a special new system – called Smart Power Control (SPC) – to optimise the balance between the pumps' output and the diesel engine.
The new operator's cab in the DX140LCR-5 is one of the largest in the compact radius industry.  Already excelling in spaciousness and ergonomics, the new cab has been further refined for outstanding operator comfort and ease of operation.
The new Doosan DL250-5 Stage IV compliant wheel loader offers as standard a number of advanced new features, which are available only as options on other machines on the market.  With a bucket capacity of 2.5 m3, the DL250-5 wheel loader is intended to meet a wide range of material-handling and loading applications.
The Doosan DL250-5 wheel loader is powered by the Doosan DL06 engine providing 128 kW (172 HP) of power at 2100 RPM (SAE J1995 gross), again meeting Stage IV emission regulations without the need of a DPF and incorporating an electronic high-pressure common-rail (HPCR) fuel delivery system and a turbocharger with a Wastegate valve (WGT) installed to improve power and fuel efficiency.
As well as offering more standard features than other machines of its size on the market, there is an expanded choice of options for the DL250-5 wheel loader, including ride control; a double suspension (horizontal and vertical) heated seat; a 3rd spool auxiliary line; a reversing fan and a limited slip differential system.
The compactness and robustness of the DL250-5 model provides excellent manoeuvrability in narrow and confined space areas such as those at McCarthy Marland in Bristol, and in combination with the impressive selection of attachments available, it can undertake a very wide range of applications.