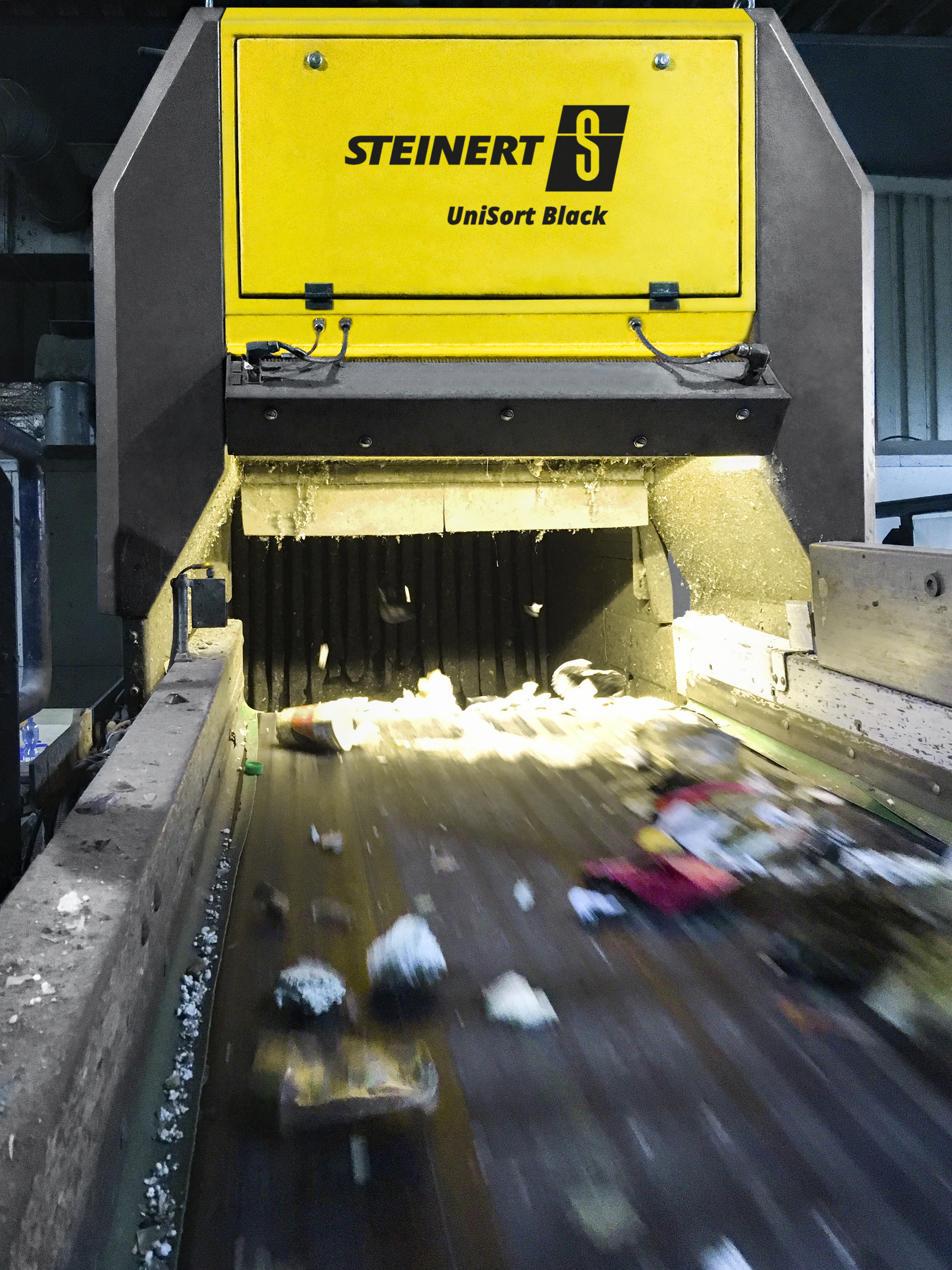 Legislation amendments pose a challenge for the operators of sorting systems, because their facilities will have to sort plastic components on a scale that exceeds the capabilities of the equipment. These components include PE and PP films, which have generally been incinerated until now. In order to cope with this increase, several waste disposal companies have already announced that they will build additional sorting facilities. "Steinert has magnetic and sensor sorting machines in its portfolio that enable it to supply these companies with pioneering technologies that can meet the higher recycling rates of the new packaging regulation," says Hendrik Beel, a managing director at the Steinert Group.
Films made of PVC or organic materials and agricultural films all share one difficult characteristic: They're hard to sort by machine. These films are so light that they lift off from the sorting system's conveyor belt, fly about, and are difficult for camera systems to reliably detect. In an act of desperation, many sorting companies reduce the belt speed far below the standard rate of 2.8 metres per second — to the detriment of the throughput rate and the sorting system's profitability.
Steinert has come up with a solution for this problem: the sorting machine UniSort Film. It has a "calming tunnel" — otherwise known as an active object control (AOC) system — mounted above the conveyor belt. This tunnel generates a gentle airflow that is just strong enough to push plastic films down onto the belt and keep them in place. It enables waste disposal companies to work with belt speeds of up to 5 metres per second and increase the sorting throughput.
Until recently, black plastics generally ended up in the residual fraction for incineration because even NIR cameras cannot reliably detect them. That's because the soot used to blacken the plastic absorbs electromagnetic radiation in both the visible and the infrared wavelength regions. This makes the machines blind for such materials. However, in view of rising recycling rates, companies urgently need to sort black plastics as well.
In response to this situation, Steinert has developed UniSort Black, a sorting system that uses hyperspectral imaging (HSI) technology. "Thanks to its extremely high spectral resolution, the camera can also detect black objects that are invisible to conventional NIR systems," explains Beel. "It enables facility operators to specifically sort out black plastics." As a result, they not only meet the new packaging regulation's higher recycling rates. "They can also produce cleanly separated valuable granules that they can sell for recycling purposes. That way, they can quickly recoup their investment in the system."
However, it's not just the packaging regulation that will become stricter in Germany, as the country's commercial waste regulation was also tightened on 1 August 2017. In order to ensure that more of the recoverables contained in commercial, construction and demolition waste are recycled, the German government has redefined the technical requirements of sorting facilities. Waste disposal companies now have to retool their facilities by 1 January 2019 so that they can more precisely extract plastics, wood, metals and glass from waste mixtures. The materials then need to be cleanly separated and recycled. The new sorting rate is 85 percent, 30 percent of which has to be recycled. To enable companies to achieve these targets, STEINERT is offering the NIR sorting system UniSort PR. At the VDMA practical days in the outdoor area of the IFAT trade fair, STEINERT will present a mobile solution for waste wood processing companies, for example, that want to meet the GewAbfV requirements. The system is an all-new mobile separator for iron and non-ferrous metals. It separates iron and non-ferrous metals at an early stage of the process. In addition, the mobile system is flexible and can be used without a construction permit.
Hall B6, Booth 451/550