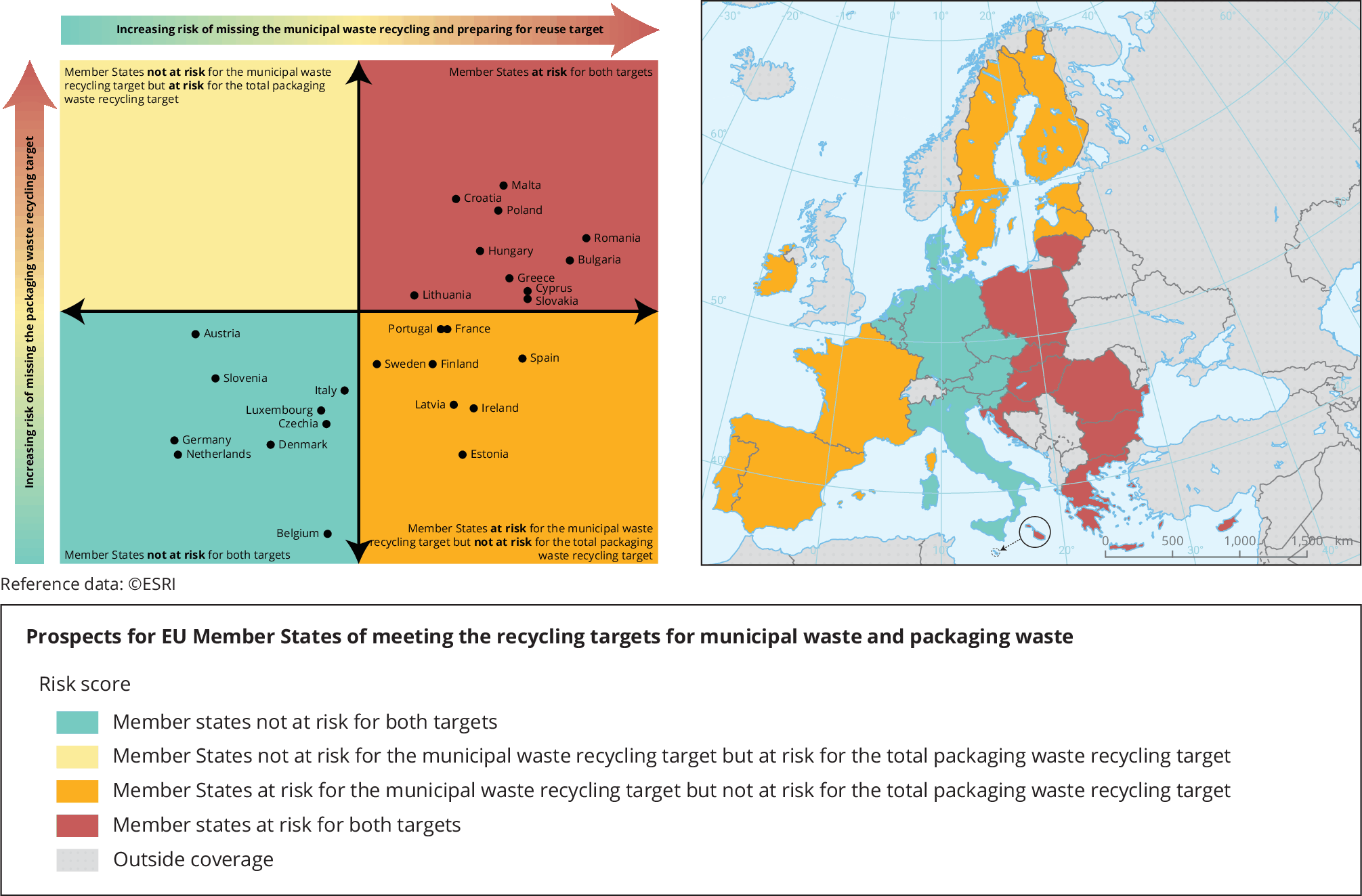 Nine Member States are on track to meet the 2025 targets: Austria, Belgium, Czechia, Denmark, Germany, Italy, Luxembourg, the Netherlands, and Slovenia.
However, 18 Member States are at risk of missing one or both of the 2025 targets. Estonia, Finland, France, Ireland, Latvia, Portugal, Spain, and Sweden are at risk of missing the municipal waste target. Bulgaria, Croatia, Cyprus, Greece, Hungary, Lithuania, Malta, Poland, Romania, and Slovakia are at risk of missing both the targets for municipal and overall packaging waste for 2025. Some countries also continue to landfill most of their municipal waste and will probably fail to meet the 2035 landfilling target. The Commissions presents recommendations to these Member States, building on continuous financial and technical support provided for improving performance on waste management.
Waste generation on the rise
Each year, Europeans generate on average 530 kg of municipal waste per person (waste coming from households and similar waste from businesses). Although it is increasingly recycled and less landfilled, municipal waste remains one of the most complex waste streams to manage. In the EU, about 50% of municipal waste is recycled or composted and 23% is landfilled. The amount of packaging waste generated has been steadily on the rise. Between 2013 and 2020, the amount of generated packaging waste grew by 15% across the EU, reaching nearly 80 million tonnes. Around 64% of packaging waste is now recycled, although this varies by material. More than 75% of paper, cardboard and metal packaging is recycled, compared to less than 40% of plastics – a problem in most EU countries, many of which are at risk of not meeting the material-specific target for the recycling of plastic packaging waste.
Significant differences between Member States
The report indicates that there are significant differences in waste management performance across the EU. For some countries, there is still a long way to go to meet the targets agreed in EU legislation and more reforms are needed, notably: to ensure biowaste treatment, which represents a third of municipal waste; separate collection of waste – a prerequisite to recycling; and improve data quality. However, most EU countries have or are in the process of putting in place waste reforms to improve recycling rates, some of which should yield results in the coming years.
External factors also influenced performance, including the effects of the COVID-19 pandemic, which reduced or halted separate collection in some countries. The recent spike in energy prices is also adversely affecting recycling activities.
EU recommendations and support
The Commission is presenting specific recommendations for the 18 Member States that are at risk of not achieving the main 2025 recycling targets. These recommendations cover a broad range of actions: reducing non-recyclable waste, increasing reuse, boosting separate collection, developing waste treatment capacities for sorting and recycling, improving governance, deploying economic instruments and awareness-raising.
The Commission will continue to support Member States to implement EU waste legislation, through the support of EU funds, technical assistance (for example through the Environmental Implementation Review, exchange of best practices and promoting peer-to-peer learning). However, national authorities are responsible for intensifying policy efforts and stepping up action on the ground.
Furthermore, the Commission has presented initiatives that contribute to a more circular economy and will support Member States in improving performance in waste management and reaching the targets, such as the proposals for new regulations on Waste shipments, Packaging and packing waste and on Ecodesign for sustainable products.