The De-Labeller is a dry pre-cleaning system removing full-body shrink sleeve labels from PET bottles. After the removal phase, the bottles still have a good integrity without damage or loosing necks. The De-Labeller is the best solution to value bottles otherwise eliminated by sorting.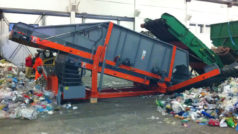 Mounted on a flat-bed trailer, the mobile ballistic separator sorts packaging in three different streams: flat/light fraction (PE film), rolling/heavy fraction (hemispherical shaped containers) and mixed materials for rejection. Belt conveyors remove and stack selected fractions with a folding system.
Number of paddles: 6; Length of paddles: 4.000 mm
AMUT is specialised to the construction of complete turn-key recycling plants for PET/HDPE/PP bottles and containers and PE film, assuring a high quality of flakes purity suitable to meet the standards for Bottle-to-Bottle and Bottle-to-Packaging applications.
AMUT ECOTECH Division is a producer of waste sorting and disposal equipment/factories. It offers recovery and recycling facilities (urban and industrial waste) to handle different materials: plastic, glass, biomass, ferrous and non-ferrous material, tires, paper and cardboard, MRF, PRF, mixed
material, RDF, compost, commercial, industrial and electronic waste.