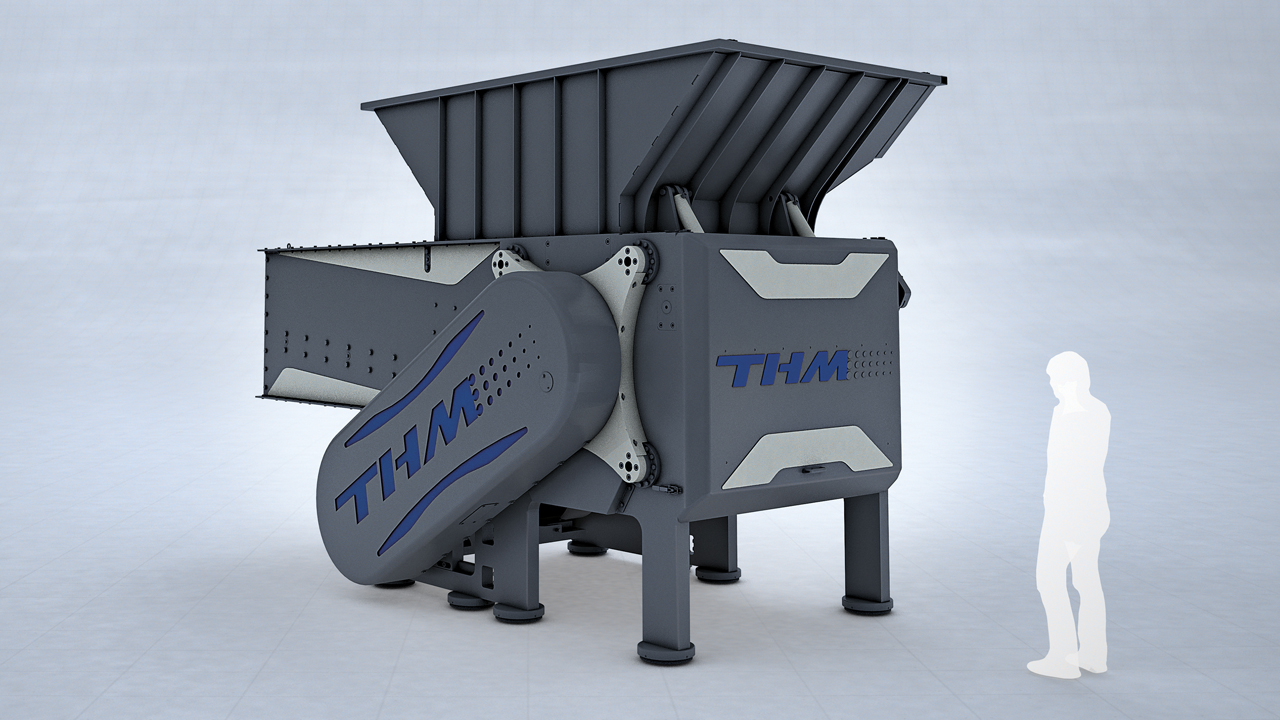 The very massive and stable build RSP2000 weights 30 tons and is able to perform under the hardest condition in the recycling environment. The RSP2000 shreds post-consumer waste as well as industrial waste in one step and can substitute two step size reduction systems.
A technical novelty is the new developed feed pusher of the RSP2000 shredder. Feed pushers are usually built in one piece. The new RSP2000 shredder does use several feed pushers. Each pusher can be can be individually actuated and set according to the specific type of material to be shredded.
Because of the sequential feed pusher, the waste material is pushed continuously to the rotor and a higher throughput capacity is achieved as well as an energy efficient operation. As an additional result energy peaks are avoided. The universal-shredder Type RSP2000 is fitted with a 132 kW motor. A new type of – belt driven – planetary gear powers the shredder shaft. The new planetary gear were specially developed for THM recycling solution by the company Liebherr (manufacturer of large construction machines).
The RSP2000 is fitted with a large feed hopper (2000 x 2000 mm), a rotor with cutting knives and with two rows of stator knives. Large materials like IBC-Container, canister or pallets will be shredded in one step down to a flake or granule size of 10 – 60 mm. Even very difficult materials such as rolls of
carpets or film will be shredded with the RSP2000. Easy to change screen segments ensures a defined particle size of the shredded material.
The universal shredder RSP2000 will be available from autumn 2016. The new RSP2000 will be presented at the IFAT 2016 show in Munich.