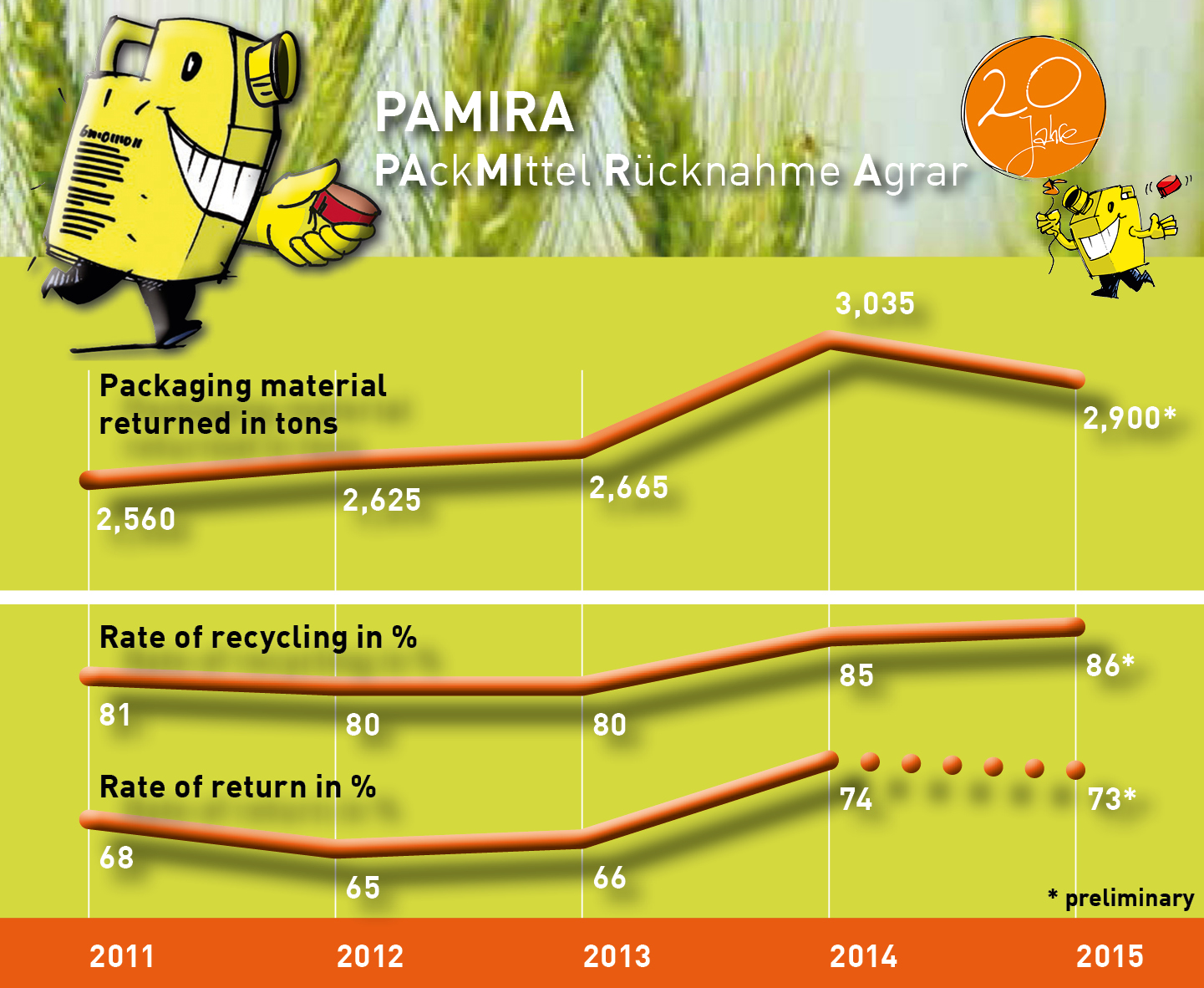 Based on the overriding motto: "Retaining the added value of plastics", RIGK will present itself at IFAT (the world's largest trade fair for environmental technology) as an experienced consultant for the industry and the agricultural sector for the organisation of collection systems and responsible recycling of used plastics. RIGK will focus on its main areas of work and the latest developments in national and international projects. A key topic will be the 20th anniversary of the PAMIRA (Packaging Recovery Agriculture) system, which is noted for its high collection volumes with continuously rising recycling quotas.
Another RIGK highlight at the show will be the CO2 balances for the individualised recovery systems that have been compiled for several years together with UMSICHT (Fraunhofer Institute for Environmental, Safety and Energy Technology). Users of the RIGK trademark from industry, commerce and agriculture obtain, on this basis, climate protection certificates as a sign of their contribution to environmental protection and their individual product responsibility. Reports on successfully accompanied consulting projects in Germany and abroad will round off the range of topics. Apart from that, RIGK will provide information on its plans for the 2nd International Recycling Forum for Agricultural Plastics, which will be held in Wiesbaden from April 26 – 28, 2017.
20 years of collecting and recycling agricultural packaging
The 20th birthday of PAMIRA represents two decades of recovering and recycling empty, rinsed packaging for crop protection products and liquid fertilisers from agriculture, commercial horticulture and forestry management under the leadership of Germany's agricultural industry federation (IVA). As part of the self-commitment undertaken by manufacturers of crop protection products to handle their products responsibly throughout their life, this proven system is financed jointly by wholesalers and industry. RIGK operates here as an effective and reliable partner for collection and recycling. In 2015, PAMIRA achieved the second-best result in its history with a recovery volume of 2,900 t. The number of collection points continues to grow and will reach 345 in 2016. The location of these collecting points can be found at www.pamira.de. The high recycling quota is quite astounding, reaching a record of 86 % in 2015. PAMIRA now plays a role model function internationally for the organisation of such collection systems.
Certificates reward commitment to climate protection
At IFAT, RIGK will begin issuing this year's climate protection certificates. Users of the producer-financed collection systems for plastics packaging from industry, commerce and agriculture will, in 2016, again receive visible recognition of their contribution to the reduction of greenhouse gas emissions. RIGK presents these certificates again to trademark users in the RIGK-, RIGK-G-, PICKUP- and PAMIRA-SYSTEM. A CO2 balance has also been drawn up for the ERDE system in 2015.
The certificates contain quantitative figures on the CO2 savings achieved individually in the previous year, calculated on the number of trees that bind the corresponding quantities of this greenhouse gas per year. How positively plastics recycling affects the eco balance is shown by the savings of CO2, which, through PAMIRA alone, have totalled 18,800 mt since the introduction of the system to 2015.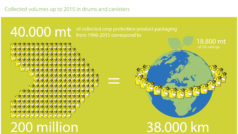 Internationally successful consulting
RIGK will also use IFAT 2016 to outline its successful consulting services in the frame of international co-operations, including
a consulting project for the collection of empty crop protection and fertiliser containers, which was launched in 2011 in cooperation with the Canadian non-profit organisation, CleanFARMS,
consulting projects for the collection and recycling of crop protection product packaging made of plastic, paper and cardboard, together with the German Technical Cooperation Agency (GTZ) in Morocco and China, and
a pilot project for the collection of end-of-life packaging and its material recycling, which was accompanied from 2012 to 2015 and initiated and sponsored by the Association of European Businesses (AEB) and the Russian Union of Plant Protection Products Manufacturers (RU).
In addition to this, RIGK will introduce RIGK Chile SpA, which was founded in October 2015. In this highly developed threshold country a law on extended product responsibility came into force in April 2016 which is strongly oriented to European models from Spain and Germany. RIGK will be in Chile to provide advice on the setting up of disposal systems and on the implementation of environmental and recycling legislation.
Extensive range of services for industry and agriculture
Visitors to the IFAT stand will also find detailed information on RIGK's constantly growing range of services. These include collection and recycling systems for industrial and commercial packaging of non-hazardous (RIGK-SYSTEM) and hazardous products (RIGK-G-SYSTEM), RIGK-PICKUP (the free collection of empty packaging from industrial and commercial end consumers), as well as recovery systems geared specifically to the agricultural sector (PAMIRA® pesticide and liquid fertiliser packaging), BEIZE (packaging for seed dressings), PRE® (unusable crop protection products and other chemicals), FOLIO & NETTI (crop forcing films, nets and yarns) and ERDE (agricultural films).